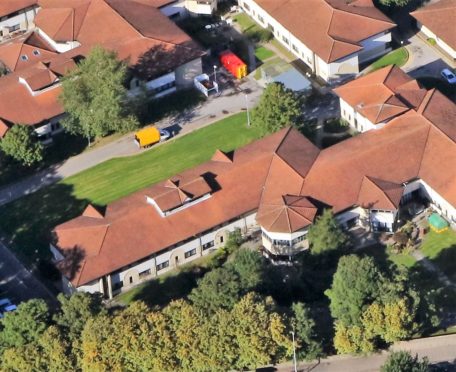 An Aberdeen hospital ward has been criticised for its inexperienced staff, cramped conditions and failure to get patients' consent for medication.
The Huntly ward at Royal Cornhill Hospital has been given three months to make changes by watchdog the Mental Welfare Commission for Scotland.
Staff from the organisation paid a visit to the facility on April 30 and published their findings yesterday.
The ward cares for up to 25 men and women but, due to a reduction in beds elsewhere in the hospital, staff reported that they are "constantly full to capacity" with patients more acutely unwell than previously.
In her report, MWC executive director of nursing Alison Thomson said: "This has led to more frequent altercations and disagreements between patients."
She noted that, in turn, staff were having to intervene to settle disputes.
---
>> Keep up to date with the latest news with The P&J newsletter
---
During the visit, five patients were given medication without having paperwork to show their consent – including one whose authorisation form had expired several months previously.
The ward environment was described as "cramped", with limited space for patients to meet others in private, leading to queues forming for one of the areas.
Ms Thomson said: "Visitors commented that they felt they were in competition with staff for use of the available space.
"Due to the multiple and frequent use of rooms within the ward, patients and visitors commented that the cleanliness of the environment and provision of supplies became more problematic as the day progressed."
In addition, the watchdog found that patients' care plans varied in quality as the booklets staff record the details in had limited space to do so.
Ms Thomson wrote: "Although the ward has good nurse staffing ratios, many of the staff are new and inexperienced, requiring a higher degree of supervision in their work, thereby putting additional responsibilities onto the remaining registered nurses."
The MWC has issued three recommendations the ward must now meet.
Managers have been told to review care plan documentation to ensure there is enough room for detail, designate someone to ensure treatment paperwork is up-to-date and review the use of available space for patients.
The report praised the ward's overall approach to patient care, with a wide variety of daily activities on offer.
A spokeswoman for NHS Grampian said it has accepted the recommendations and is "delighted" with the positive feedback.
She added: "The commission was happy with our multi-disciplinary team approach to patient care.
"The patients told the MWC that staff are approachable, helpful and responded well when patients needed to speak to them.
"The MWC also commented on the fact that there was good advocacy input into the ward, with staff encouraging referrals for advocacy support."