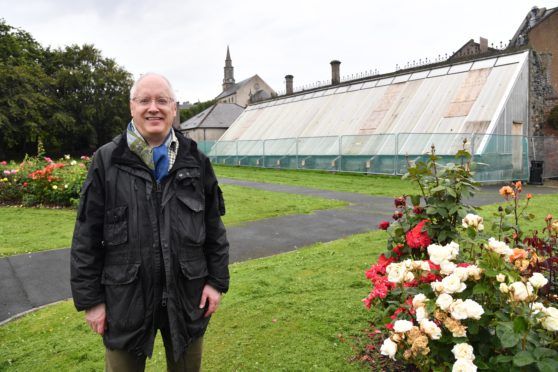 The search is one for a "visionary" organisation which can transform a run-down vinery into a community space.
The award of £242,832 from the Scottish Government Town Centre Fund has allowed Aberdeenshire Council to kickstart the Grow Banff @ the Vinery project.
In Airlie Gardens, the grade B-listed glass house known as the Vinery is in a poor state and the goal is to restore the building and give it a community use.
A community consultation to assess what people want it to be used for discovered that locals were enthusiastic about the creation of a community garden and horticultural skills base or a community kitchen and cafe – but the council is hoping both designs can be incorporated into the project.
The authority is now looking for a "visionary organisation" to start the development process and fulfil the potential of the Vinery.
Banff and Buchan Area Committee chairman Andy Kille is glad external groups have been offered the chance to contribute.
He said: "I'm pleased we're able to invite organisations to get involved at this developmental stage to ensure we deliver the best possible project for the community.
"Situated at the entrance to Banff's historic town centre, this building is highly visible and has been in a poor state of repair for a number of years, so in addition to the potential community benefits, this project will also contribute to wider regeneration efforts in Banff and Macduff."
The successful operator will work in partnership with the council, architects and a steering group to get the development underway with planning and delivery assistance.
Past experience in that process has been recommended for any applicants, but organisations must also commit to achieving "real change in the community".
Committee vice-chairman Michael Roy, added: "We're excited to see who will come forward and what ideas they will have for meeting the project objectives.
"Improving opportunities for developing skills and employment are key parts of the regeneration action plans, and I welcome the contribution Grow Banff @ the Vinery will make to that agenda."
The wider project also includes the improvement of the gardens and generate income and opportunities for locals and visitors.
Chairman of the Banff Development Partnership Glen Reynolds said the venture was an "exciting opportunity" to establish a business gateway community enterprise in Banff.
Mr Reynolds said: "The Vinery project is intended to provide transformational and all-inclusive community change from an an iconic heritage site on the edge of town."
The final decision on the chosen operator is expected to be announced in September.
Contact Suzanne Rhind for further information by emailing suzanne.rhind@aberdeenshire.gov.uk