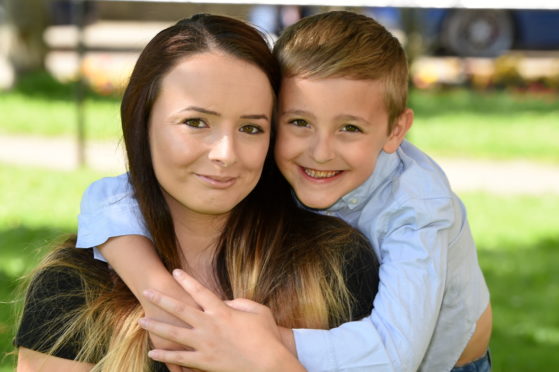 A beauty queen who took time out from competing to look after her bullied son will be cheered on by the youngster when she returns to the stage this weekend.
Nursery teacher and part-time model Sherylanne Green, from Aberdeen, will represent the north-east as one of 14 finalists at the Miss Royale UK beauty pageant on Sunday.
Although far from the first pageant the 28-year-old single mum has taken part in, it will be her first national event, and her first since taking a two-year break to look after her seven-year-old son Julian, who was being picked on at school.
The former Ellon Academy pupil, who is originally from Tarves, will travel to Glasgow for the competition – where Julian will be watching enthusiastically from the sidelines.
She said: "Although this will be my 14th pageant, the ones I've done in the past were smaller, more local events.
"This one is completely different. It's much bigger, it's UK-wide and the prizes are far bigger.
"I used to love pageants and did two or three a year, but I haven't done any for two years now.
"My son's been through a lot the last couple of years, including quite bad bullying, so I've been focussed on that.
"It's been a difficult time and I felt I had to concentrate on him, but the situation has improved now."
She added that Julian "loves the pageants" and has attended in support of his mum before.
Ms Green said: "He loves helping me with the outfits and choosing what to put on them.
"The pageants are a great opportunity to meet new people, and there's always a real buzz backstage.
"I love the outfits and getting dressed up and being on stage, it's like becoming a different person.
"I only accepted a place at the start of the month, so have only had a few weeks to prepare, it's been really quite hectic.
"My friends think I'm crazy, but at the same time they're buzzing about it and looking forward to seeing the pictures and videos."
If she is crowned Miss Royale UK, Ms Green will win £500 as well as a professional photo shoot.
The event is raising money for the Glasgow Children's Hospital Charity.