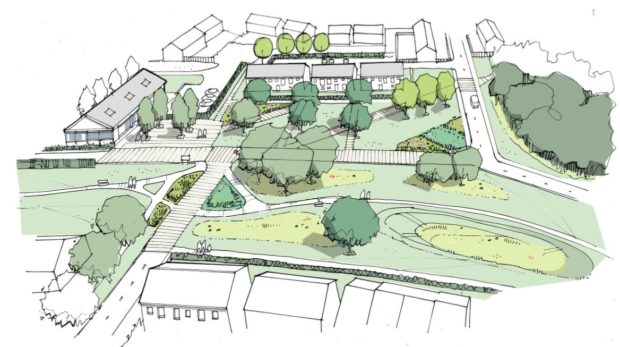 A £110million vision to build more than 500 homes in an Aberdeen suburb has been unveiled.
The Press and Journal can exclusively reveal new images of the vast development at Bridge of Don – which would include shops, community facilities and a modern football pitch as a new home ground for the highly ambitious junior side Bridge of Don Thistle.
Cognito Oak LLP – a partnership between Henry Boot Developments (HDB) and Wraith Real Estate – has now lodged an application for planning permission in principle for 550 homes, of which around 145 would be affordable.
The development is earmarked for land north of the Aberdeen Exhibition and Conference Centre, near the A90 Aberdeen to Ellon road.
The cost of the homes alone would top £110million before taking into account the other infrastructure such as the shops and community facilities.
And in what is thought to be a first for Scotland, some of the homes would be powered and heated by the emerging hydrogen technology.
A new signalised junction with pedestrian crossings and a reduced speed limit is also planned for the new estate which would be comprised of a variety of housing types.
Nigel Munro, of Henry Boot Developments, told the P&J: "Our proposed development offers an opportunity to help to address the shortfall of housing delivery in the Aberdeen area, which has failed in recent years to keep pace with the required numbers.
"Following the consultation events earlier this year, we have listened to the feedback provided and we have worked hard to put together a development that not only provides new homes, but also the infrastructure – parks, community space, shops and sports facilities – to build a thriving community.
"It's great to see the development take this next step forward – it's a scheme that will be hugely positive for the local area, not only providing much needed new homes, but creating a great place to live and making a positive contribution toward the wider Bridge of Don area."
Bridge of Don has been transformed in recent decades following the boom in oil and gas and is already home to more people than many major towns across Scotland.
The ruling Conservative, Aberdeen Labour and independent council administration has made council housing one of their major goals – pledging to build 2,000 units during their five-year term.
Some 2,500 people are on the waiting list for a council home in Bridge of Don.
Hydrogen technology has also been at the forefront of the authority's agenda as leaders look to cement the city's reputation for energy beyond oil and gas.
The proposals will go before councillors in the coming weeks.