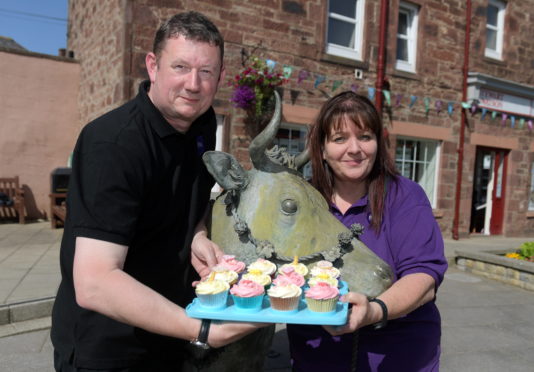 Nothing symbolises the investment in local food and drink more than the attendance of bakers Florence and May.
Turriff-based husband and wife team Samantha and Mike Rawlins make bespoke cakes, cupcakes, fudge and other goodies.
For the last few years the couple have attended Turriff Show but their initial chance to take part was a hectic beginning but was worthwhile when they won second place in the food displays that year.
Mrs Rawlins said: "In 2016 we decided to try and attend Turriff Show, we applied but we were too late, so we were put on the reserve list.
"The email to offer us a stand that had become available came at the beginning of June so mad panic set in preparing for our first major event.
"Nothing really could have prepared us though, we were amazed at just how busy we were, even though the weather that year was dreadful at times.
"We sold way more than we expected on the Sunday and went home to start baking again to top up our stock and despite this we had sold out by 3pm on the Monday.
"Last year, we obviously knew what to expect a bit more, so we had more cakes and fudge with us, but again, we were sold out by 3pm on the Monday.
"This year, I know I'll be excited once we're there but we've a lot to do in the built up.
"It will be a massive change with the new arrangement this year after the investment and I think that will mix it up and make it more appealing for locals too."
Florence and May originally started after the couple relocated from Staffordshire to the north-east.
Mr Rawlins took up his post as a volunteer for the RNLI in Macduff and, to raise money at their gala in 2015, Samantha baked some cupcakes.
Since then the business has grown but family is still at the heart of their baking – with their keen baking grandmothers as the namesake of their company.