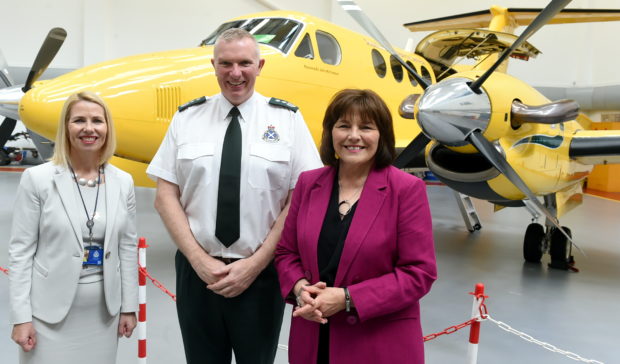 A million-pound centre for treating critically-ill casualties before they reach hospital has been opened in Aberdeen.
Staff at the ambulance service's Scottish Specialist Transport and Retrieval (Scotstar) North base at Aberdeen Airport will look after adults who have been brought to the city via aircraft in life-threatening situations, as well as responding to emergency calls.
The Scottish Government's health secretary, Jeane Freeman, officially opened the centre yesterday.
She said it would work alongside the trauma centre which was opened within Aberdeen Royal Infirmary last September in a joint effort to help those most in need of medical attention.
The facility treats people who have suffered life-threatening injuries in road accidents and falls, or have experienced potentially fatal health complications like strokes or heart attacks.
It will form a network of such centres, with another in Dundee also opened last year and two more in Glasgow and Edinburgh to come.
Ms Freeman said: "This new centre complements the services of the Scottish Trauma Network, which will help trauma patients from pre-admission to rehabilitation.
"Scotstar North builds on the work being undertaken by our newly-opened major trauma centres in Aberdeen and Dundee, linking up the resources, expertise and infrastructure of NHS and the Scottish Ambulance Service.
"The new centre ensures that critical care across Scotland is of the highest standard."
The consultant-led teams on site in Aberdeen will retrieve patients from aircraft and provide "pre-hospital medical response".
They will offer advice to remote and rural hospital staff via telephone regarding resuscitation and safe transfer of patients with critical illness.
The clinical lead at Scotstar North, Dr Alastair Ross, said: "We are delighted to deliver this service as part of our ongoing commitment to improved patient care across Scotland.
"Working closely together, the teams bring high-quality specialist care to patients by road and air, that best meet patient needs.
"The team is available 24/7, providing critical care and safe transfer for patients in remote healthcare locations and at accident scenes.
"This is a key component of the Scottish Trauma Network and will improve the care of seriously ill and injured patients across Scotland."
There are around 800 to 1,000 cases defined as "major trauma" in Scotland annually.
It is estimated there are 100 cases of major trauma among children under 16 in that time.
It is thought the trauma centre at Aberdeen Royal Infirmary could potentially save 40 lives a year.