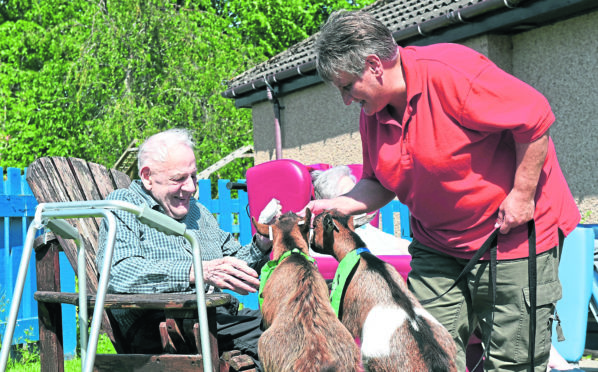 They may not be kids any more, but pensioners at a north-east care home are feeling young again following a special visit from a pair of baby goats.
Bill and Ed, two seven-month-old pygmy goats, have been travelling across Aberdeen and Aberdeenshire visiting people in need of some fun with their owner Elaine Robb.
Mrs Robb, who works with the Aberdeenshire Health and Social Care Partnership when she's not shepherding her two cheeky goats around, bought her four-legged friends after seeing for herself the benefits that other therapy animals, including ponies, can have for people living with conditions such as dementia.
Over the past few months, she has taken Bill and Ed to care homes and similar facilities throughout the north-east, including Peterhead, Fraserburgh, Cruden Bay, Mintlaw, Aboyne and Banchory.
Yesterday Mrs Robb and her goats travelled to the Meadows care home in Huntly, where her pint-sized pets delighted the residents with their antics.
Mrs Robb, who works as a coordinator for older adult day care, said: "I work in care homes a lot, and I've experienced the ponies coming into the centres and places I worked in – and seen the difference they make.
"So I really wanted to do something along the same lines, and after a year of planning it's really taking off and there's been heaps of bookings."
When Bill and Ed aren't entertaining, they like to spend their time in their own custom-built home at Mrs Robb's property in Ellon, which comes complete with plenty of rocks and wood to jump around and climb on.
Mrs Robb, 48, added: "Therapy animals bring a phenomenal amount of joy to people, and it's amazing to see the happiness my goats bring to a room.
"Even just a little time with them can really help, especially for people with conditions like dementia.
"One of the best things is hearing how they can bring up these amazing memories for people.
"For example, they really help older folk who used to work on farms to remember their younger days."
To find out more about the goats, or to arrange a visit, click here.