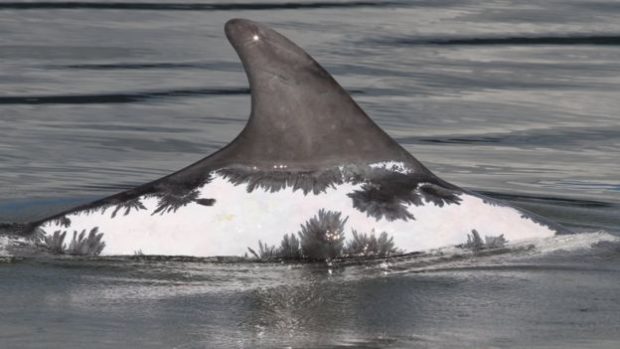 Dolphins from the Moray Firth have been recorded going on their holidays and leaving the UK's shorelines for the very first time.
Researchers from Aberdeen University have confirmed sightings of between four and nine members of the east of Scotland population of bottlenose dolphins swimming around off the coast of the Netherlands.
The reports come following sightings of other animals from the firth enjoying the views near the coastline of south-west Ireland.
The researchers, from the Lighthouse Field Station in Cromarty, were able to confirm the dolphins were from Moray due to some of their unusual markings.
They were able to identify one of the dolphins, nicknamed Mischief, in the Netherlands earlier this month due to its distinguishing scars on its dorsal fin.
And another, Spirtle, was easily recognised in Irish waters due to the severe scarring all across its back, which it suffered when it became stranded and severely sunburned.
Spirtle, Mischief, and the other dolphins seen in the Netherlands and Ireland were all recorded around the Moray Firth area this March.
The scientists studying the charismatic animals are now questioning whether or not this is the very first time they have left Scottish shores.
A statement from the Lighthouse Field Station team said: "These are the first known sightings of the east coast of Scotland bottlenose dolphin population outside the UK.
"Now the big questions are, is this a first for this population?
"Or do these dolphins regularly travel further than we realised?
"These sightings have only come to light because two of these dolphins, Mischief and Spirtle, have unique and unusual markings that we were able to confidently match to our catalogue.
"And we may have not heard about any of these photos without the presence of social media.
"Or, are there unknown drivers influencing some dolphins to investigate new habitats?
"Either way, now our challenge is to try and understand these previously unknown movements."
Meanwhile, the Sea Watch Foundation is urging members of the public to get involved in its annual National Whale and Dolphin Watch.
For more than 40 years the organisation, as well as volunteers around the UK, have reported sightings of whales, dolphins and porpoises to keep their database up-to-date.
Dr Chiara Giulia Bertulli, sightings officer and lead organizer of this year's NWDW event, said: "Without collecting information about numbers, locations, and behaviour, it is impossible for scientists and conservationists to know how to develop plans to protect cetacean species in our seas."
During the nine day event last year, 13 different whales and dolphins were recorded – with 757 sightings logged around Scotland alone.
The event runs until next Sunday. For more information, or to find a registered watch near you, visit www.seawatchfoundation.org.uk/nwdw-2019-watch-list