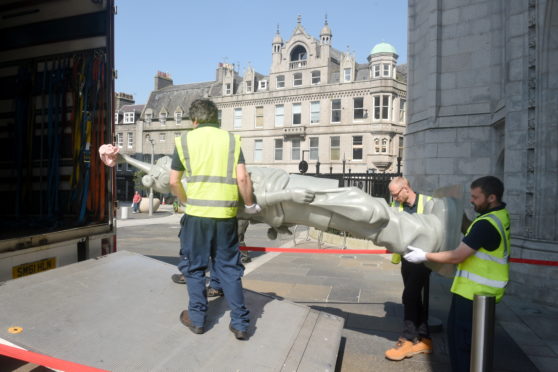 Treasured art works are being moved out of council buildings as the countdown to the grand re-opening of Aberdeen's art gallery grows closer after a multi-million pound renovation.
The A-listed city centre building has undergone around £34million of work and will open its doors again on November 2.
Yesterday, a large moving lorry was spotted outside the council's headquarters at Marischal College while the large Japanese-style statue, named Feedback loop, was transferred out of the atrium to its new home on Schoolhill.
Meanwhile, another council-owned masterpiece owned by the local authority will go to a top Dutch museum.
A report presented to a special meeting next Wednesday will ask for councillors to give permission for a council officer to travel with the "Two Schoolgirls" painting by James Cowie to the More museum for an exhibition lasting between September and January.
However, it won't cost the council any money as the museum will pay for the travel costs of the piece and the officer.
The gallery renovation has proved controversial in some circles and has faced numerous delays – it was originally due to be completed in 2017.
The financial model, whereby £10million of the cost was due to come from public donations, has also been attacked with millions of pounds outstanding.
The completed building will feature new gallery space, a renovated war memorial section and a copper-clad roof to exhibit more works.
Council co-leader Douglas Lumsden said: "I was lucky enough to visit the gallery recently and I think the public will really fall in love with it again when they see inside.
"The quality and quantity of the city's collection is just staggering and I think it will definitely be a major tourist attraction and a fantastic asset for our city."
However, opposition SNP group leader Stephen Flynn said: "Whilst the administration celebrates an apparent 100 days until the art gallery opens its doors, the public will not have forgotten that the original opening date was late 2017.
"The sad reality is that this project is two years late and it is the people of Aberdeen who will, yet again, be bailing out this administration."