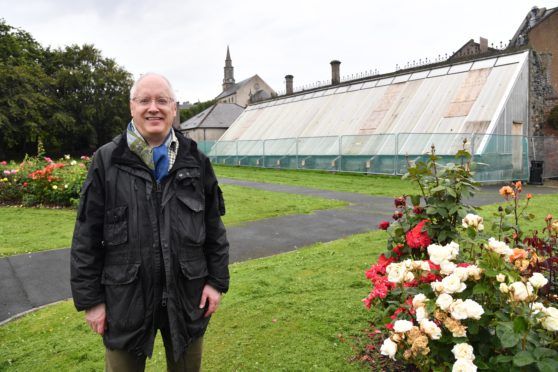 Aberdeenshire Council wants to proceed with £240,000 plans to revamp a north-east attraction by recruiting architects and designers to shape its future.
The local authority was granted £242,832 from the Scottish Government to help refurbish Banff Vinery, a B-listed glass house in the town.
The once-impressive structure has fallen into disrepair and local residents are keen to bring it, and Airlie Gardens, back into use as a community-based initiative.
A recent community consultation discovered that locals wanted a community garden and horticultural base created at the site in addition to a kitchen and cafe.
Grow Banff @ the Vinery is hoping to incorporate both ideas.
The council is now searching for an architect and team of designers to devise proposals  for the redevelopment of the space.
At the moment, the glass building is boarded up and unusable, but the near-£250,000 contract should ensure the future of the vinery starts to take shape.
The tender states: "Aberdeenshire Council requires an architect and design team to a) undertake contract administration of a first phase of stabilisation and consolidation work on the roof and walls of the Bothy, and b) develop design proposals, working alongside a preferred operator and Aberdeenshire Council to take the complete GrowBanff @The Vinery project through to tender documentation stage."
This means the collaborative work will progress the development to the stage where builders can be employed.
Local councillor Glen Reynolds is confident the architect and team could be local as well as creative enough to maximise the potential of the project.
He said: "As in any procurement and contract situation involving works on behalf of the council, I always hope that local contractors and a local labour force will be prioritised.
"That is not always easy, but that should be the starting point.
"The vinery project is more specialised as it needs a creative and unique edge.
"I want to ensure that what the vinery offers is special, not duplicating what Banff already has.
"But the bottom lines is local contractors and innovators for local contracts."
Earlier this month, Aberdeenshire Council revealed it was looking for a "visionary organisation" to help with the process and fulfil the potential of the vinery.
External community groups are being given the chance to get involved and would be working with the council and architects on the venture.
The final decision on the chosen operator is expected to be announced in September.
Email suzanne.rhind@aberdeenshire.gov.uk for more information.