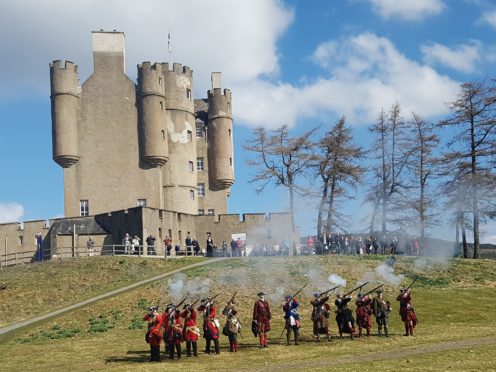 Deeside's bloody history will be resurrected next month as part of a major £1.5million pound project to breathe new life into one of the region's most famous castles.
On August 10 and 11, the grounds of Braemar Castle will resound with the clash of swords and the boom of cannon and rifle fire as part of a dramatic series of re-enactments of historic battles.
In addition to recreations featuring authentic, fully-costumed Jacobites and Redcoats, there will also be craft stalls, demonstrations, and opportunities for the whole family to get involved in activities such as storytelling, foam-sword fighting and children's games.
The weekend of fun and history will be part of the Raising the Standard campaign, to generate £1.5million and help overhaul the 17th-century Braemar Castle, making it fit for the future.
The fundraising project has been designed by the Braemar Community Limited group, which is seeking to use the cash to carry out vital repairs and replace the ageing finishing on its exterior.
The castle was taken over by the community more than a decade ago, after it fell into a state of severe disrepair, and visitor numbers dwindled.
Since then, local residents have helped to raise £500,000 to repair the roof and chimneys.
Thanks to their efforts, tourist attendance has trebled, to almost 14,000 a year.
Simon Blackett, chairman of Braemar Community Limited said: "Our Raising the Standard project aims to raise £1.5 million to restore the harling and provide better facilities for our visitors and volunteers, and we hope this fun weekend will considerably boost the coffers.
"People will be able to see first-hand exactly why we need to raise funds – not only for conservation reasons, but also because we look pretty scruffy."
However, the event won't just be about the Deeside castle's heritage, as food, drink and other stalls from local businesses throughout the region will also be on offer.
And on the Sunday, the Jacobites and Redcoats will be getting in on the fun themselves with a street theatre session, as well as falconry displays.
The event will run from 11am to 4pm on both of the days.
Tickets are available online now at www.braemarcastle.co.uk, or can be purchased on the day.
All tickets also include entry to the castle for the day.