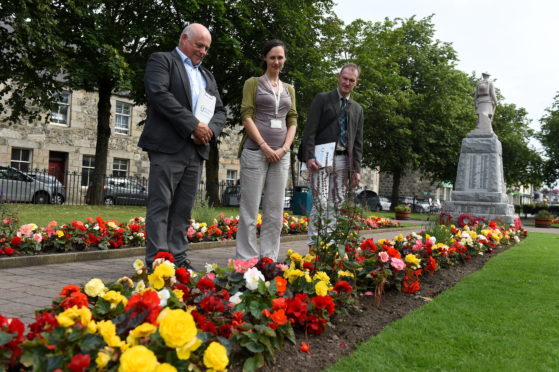 North-east gardening groups have welcomed judges from across the UK as part of a national horticultural competition.
Britain in Bloom, part of Keep Scotland Beautiful, has returned to the region with the aim of recognising the efforts of local authorities, communities and businesses.
With planters in full bloom and streets swept clean, entrants were eagerly waiting to show off their myriad assortment of plants, after organising local environmental awareness campaigns and mass volunteer participation.
Over a two-week period, pairs of highly experienced volunteer judges will visit different areas as part of a tour which takes in small villages, towns and cities.
Some of the north-east towns judged yesterday included Inverurie and Cove.
During the judging tour, three themes were examined – horticultural achievement, community participation and environmental responsibility.
The winners will be presented with an award at a ceremony hosted by Dumfries and Galloway Council on September 12.
John Glover, chairman of Inverurie Environmental Improvement group, said: "The IEI committee are delighted to be competing in Keep Scotland Beautiful 2019 in the 'medium town' category.
"This gives us an ideal opportunity to showcase Inverurie for its horticultural achievement, environmental responsibility, and community participation.
"Inverurie is a thriving town with voluntary groups, social enterprises, schools, residents, businesses, public sector staff and elected members contributing to its success.
"This is an exciting time in the development of the town centre with the formation of the Business Improvement District last year."
Wendy Suttar, a group member from Cove in Bloom, said giving the tour was "nerve wracking", especially with the recent miserable weather.
She added: "In the last two to three weeks, we have been working non-stop to make sure everything was in place.
"You just have to take everything as it comes, last year we were worried the flowers would be drying out from the heat.
"This year, we have been working around the clock trimming from the fast rate the plants have been growing because of the rain and heat.
"It is a community effort and we're looking forward to the judging ceremony in September."
Some of the winners from Beautiful Scotland 2019 will also go on to represent Scotland in the Royal Horticultural Society's Britain in Bloom Final in 2020.
Last year, the Residential Community trophy was awarded to Powis Residents Group, Aberdeen Inspired scooped up the Something Special award for the David Welch Memorial, Cove in Bloom won the prize for Garden for Life Biodiversity.
In the north, Forres in Bloom took home the Community Involvement Award.