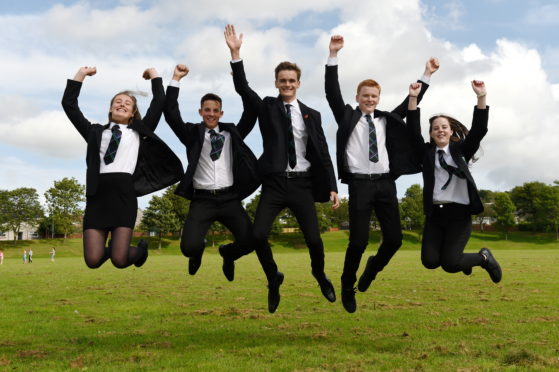 Pupils at an Aberdeenshire school have been praised for their academic success in a "particularly difficult year" that involved the death of one of their classmates.
Thousands of youngsters celebrated their exam results across the north-east yesterday.
Across both Aberdeen and Aberdeenshire council's schools, attainment levels improved compared to 2018's figures – especially for the percentage of Aberdeenshire S5 pupils achieving three or more awards at SCQF Level Six, from 40.3% to 44.2%.
A total of 88 young people across Aberdeenshire achieved five straight A passes at Higher level, and 100 achieved between three and six Advanced Higher awards.
One north-east school which recorded some of its best results in years was Westhill Academy.
Pupils at the school have been mourning the death of their classmate Liam Smith, who was found dead in March after going missing late last year.
Vincent Docherty, Aberdeenshire Council's head of education, said: "Overall, Aberdeenshire's results have gone up on our three key legacy measures by more than we could have expected.
"We've also seen a huge increase in foundation apprenticeships and national progression awards, which shows we're really in the spirit of the curriculum for excellence.
---
>> Keep up to date with the latest news with The P&J newsletter
---
"I must mention that Westhill Academy's performance this year has been particularly strong across all measures.
"Westhill has had a year where they lost a fourth year pupil, making it a particularly difficult year.
"A tragedy in a school can sometimes have a negative impact, but here we're really just so proud of them.
"They supported each other, they really dug in, and for the past seven years this school hasn't performed as well as it has with these examination results.
"It's a real boost for the community, and recognising that achievement is really important."
Meanwhile, pupils in the Granite City also had a reason to celebrate, with improved performances reported across many of Aberdeen's schools.
The local authority noted a particularly significant improvement in pupils attaining grades A through C at the Advanced Higher levels.
Attainment in S4 English National 5 remains statistically unchanged at 87.31% (A-C).
The figure for S4 National 5 Mathematics increased to 73.16% from 70.57% in 2018.
The city council's education convener John Wheeler said: "I am pleased to see performance sustained across SQA measures, including S4 Maths National 5 and Advanced Higher.
"I appreciate this that is only part of the picture across the city and look forward to reviewing our insight data, which shows a fuller view of attainment and achievement for our pupils, upon publication in September 2019."