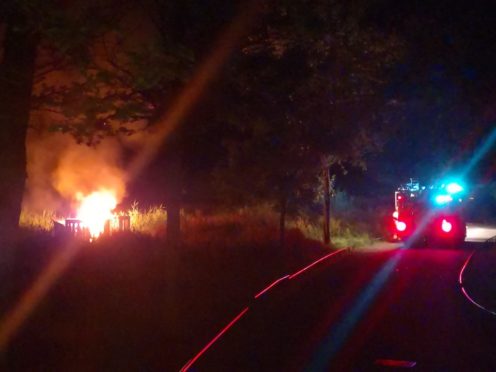 Police are appealing for information following a suspicious fire at an Aberdeen park.
A group of Californian tourists helped save Seaton Park from serious devastation when they spotted the flames.
Jamie Gibson was woken up by the group early Tuesday morning and phoned the fire service.
Police have now confirmed the incident is being treated as suspicious and are calling on the public to get in touch with any information.
Fire crews were on the scene at around midnight and spent half an hour extinguishing the flames. An information sign was destroyed, but no further widespread damage was reported.
Sheila Gordon, from Friends of Seaton Park, said: "It impossible to understand why anyone would cause such damage and potentially turn smiles into tears.
"I am sad that this has happened and that scarce resources may have to be used to put it right.
"The damaged information boards tell people about how the wetlands work and the wildlife and plants to be seen in the park.
"An unloved flooded area was turned into a useful resource and something which everyone can enjoy."
A police spokeswoman said: "Officers are looking into a wilful fireraising incident that occurred at Seaton Park in the early hours of August 6, 2019.
"An information board within the park was damaged as a result.
"Anyone with information about this incident is asked to contact Police Scotland on 101."