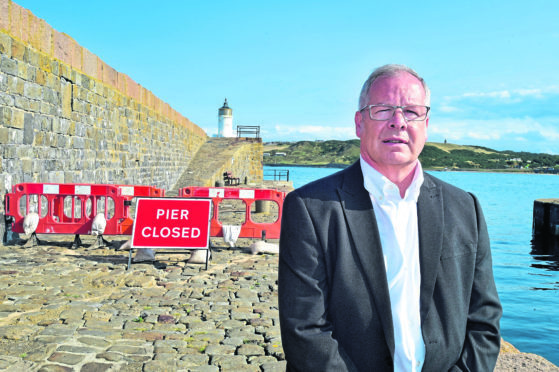 A Banff councillor has called for a quicker way of allowing harbour dredging to take place after fears vessels may be left "high and dry".
John Cox is concerned about the health and safety risks which could arise if excess sand is not moved out of Banff Harbour soon.
Silting is a common problem for harbours as the tide draws in materials from the sea floor, but Banff Harbour is now facing possible issues due to the situation.
In order to dredge the sand from a harbour, the council requires a licence to move the material and, although Banff Harbour has a licence, they are restricted between June 1 and  September 15 as this is "bathing season".
Aberdeenshire Council submitted an application to Marine Scotland to alter their dredging allowance.
But their consideration period lasts 14 weeks – a delay which Mr Cox believes should be quicker to stop the situation becoming hazardous.
He said: "The more silting that happens, the less the depth of water advertised is not true.
"People could be coming in, thinking it will be a suitable depth, but be left high and dry.
"It's a health and safety concern as a yacht could go in and then end up tipping, damaging itself and other boats.
"We can't sit about and wait for Marine Scotland to make up their mind.
"The sand gets moved from the harbour round the corner to the bay so it shouldn't take this long. Surely there should be a fast-track option to get this done so the situation doesn't get worse?"
A council spokesman confirmed everything is in place to carry out the dredge at the earliest convenience, as soon as permission from Marine Scotland is received.
He said: "An application was lodged with Marine Scotland at the beginning of May to vary our licence in order to offer greater flexibility in how we carry out the dredge.
"We are still awaiting a formal response but we have been in regular contact with Marine Scotland throughout this time."
A spokesman for the Scottish Government said: "Marine Scotland is currently considering the application by Banff Harbour to change aspects of its licence to dredge and expects to complete this within the standard 14-week timescale."
It is also understood that although Banff Habrour has a licence to allow for 28,500 tonnes of material to be dredged between 2017 and 2020, no dredging took place in 2017 and only 3,600 tonnes were moved in 2018.