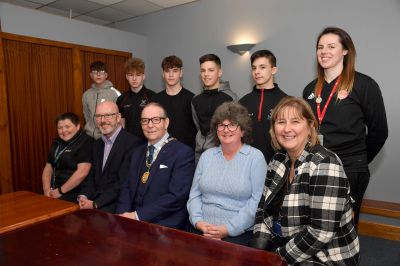 A football-based scheme to help youngsters score in school has found a temporary home until its new venue is ready.
The PeterDeen project will be based at the Buchanhaven Hearts Junior Football Club (JFC) Victoria Road facility when the school term starts again next week.
PeterDeen is an innovative venture which delivers an alternative secondary school curriculum involving local football clubs.
Students participating in the project receive football coaching sessions and the opportunity to focus on life skills and work in addition to spending time in school on core subjects such as Maths and English.
The project has already enjoyed success since its launch last year with a 50% increase in attendance rates among pupils taking part.
So far, it has been based at Peterhead FC, but PeterDeen will take up residence in Barclay Park Pavilion once its renovations are completed.
Until that time, Buchanhaven Hearts JFC has stepped in as a temporary venue for the initiative, which is led by Aberdeenshire Council.
A spokesman said: "Peterhead FC has recently developed parts of its stadium and its commercial offering and the time was right to bring another local club into the project with a view to securing another training venue.
"Following some very positive discussions with Buchanhaven Hearts JFC, they offered a new base for the PeterDeen project, using their facilities to deliver training and education until the new facility at Barclay Park Pavilion is complete.
"We're delighted to bring them on board as yet another local partner, working with the project to improve the life chances young people in the area.
"This project has already shown the positive impact it can have and with further support from Buchanhaven Hearts, even more young people can continue to benefit."
The PeterDeen scholarship was developed in partnership with Aberdeen FC Community Trust, Peterhead FC and Peterhead-based Score Group plc as well as third sector providers. And now Buchanhaven Hearts JFC is joining the mix.
Graeme Mackie of the club said: "We were already aware of the positive work being done in the community by the PeterDeen project, particularly the opportunities being offered to young people who may benefit from an alternative approach to education.
"When we heard the project was looking for a temporary base, as a community-minded club, we were very happy to be able to step in and we look forward to being a part of PeterDeen."
The project will be based at Buchanhaven Hearts JFC from Wednesday, August 21.