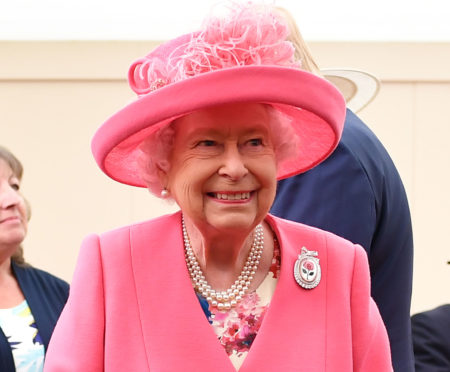 The Queen made two public appearances in Deeside this weekend, close to her summer holiday home at Balmoral Castle.
Her Majesty attended a fundraiser for the local church on Saturday and returned to Crathie Kirk yesterday morning.
Prince Edward and his wife Sophie, Countess of Forfar, accompanied the monarch to the Sunday morning service.
The day before, Her Majesty had paid tribute to Aberdeenshire community surrounding her summer retreat – donating a magnificent cake to a church sale.
The Queen attended the Braemar and Crathie Church sale on Saturday, spending around 20 minutes perusing the stalls.
Every two years the church holds the sale to raise funds for ongoing repairs and maintenance, and the monarch is no stranger to the occasion.
This year, the monarch donated an intricately iced cake, crafted by her own chef.
Visitors paid £1 to guess the weight of it and there was an additional chance to win a royal tea in a prize draw.
Her Majesty arrived at the event early on Saturday morning having been in the north-east for more than a week.
Around 60 people were there while the monarch browsed the flowers, local produce and jewellery on offer, before ordering tablet to be delivered to her nearby summer retreat.
She was applauded out of the hall after reportedly telling the residents and locals gathered there that it was "lovely to be back in Scotland".
The sale has been a fixture of Her Majesty's calendar for decades.
In 1955, when the event was held at the nearby Abergeldie Castle, she spent part of her day helping to run a stall.