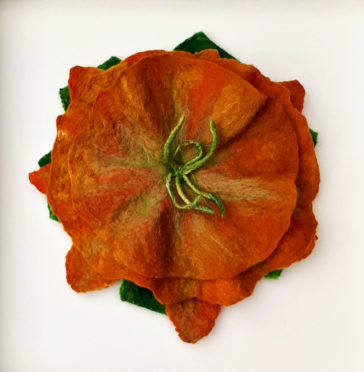 A self-taught felter will provide one of the more distinctive exhibits at a historic city venue.
Hazel Ewart-Mills, who lives on the west coat of Argyll, is bringing her passion for textile art to Aberdeen's recently-refurbished Music Hall.
She said: "I discovered felting when the boys were very small and have been experimenting and developing my skill ever since.
"I have always loved textiles and natural fibres and am drawn to the painterly nature of felt colour blending.
"My inspiration comes from the sea, sky and landscape around me. The colour range is vast and often surprising in its intensity.
"The range of blues, green, pinks, reds, purples, rusts, yellows and browns are almost infinite. They are always changing and evolving with the passage of time, light, weather and season. I am forever taking pictures as this fixes the colours in my mind, ready to flow out in the fleece.
"I will be bringing new pebbled seashore textile pieces to Aberdeen which are mostly inspired by the coast and landscape where I live in Argyll."
The ninth Aberdeen Art Fair, which will take place from August 30 to September 1, is returning to the Music Hall after an absence of four years and will, for the first time in its history, offer free entry throughout the weekend.
Opening times are Friday, August 30 from 6pm–9pm, Saturday, August 31 from 10am–5.30pm and Sunday, September 1 from 10am–5 pm.