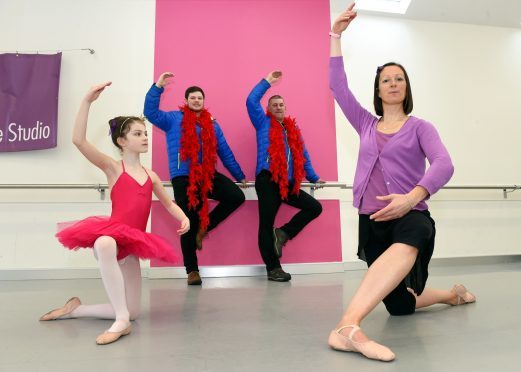 A new arts organisation in Aberdeen has pledged to preserve the legacy of beloved dance teacher who died earlier this year.
DanceSing, founded by former Scottish Ballet member Natalie Garry, has just moved into the Academy Street Dance Studio.
The team want to build on the "inspiring work" done there by Jemma McRae, who was just 43 when she lost her battle with breast cancer in February.
DanceSing, which regularly supports cancer charities, said it will do everything it can to "keep her legacy alive" in the future.
Ms Garry said she was determined to ensure Mrs McRae would be proud of her group's efforts to bring people together through singing and dancing.
She said: "Jemma has left an amazing legacy in Aberdeen, because she created this wonderful studio full of light and love and laughter and her motto was 'live, love, laugh, make memories and keep learning'.
"Jemma lived her life like that and instilled it in everyone she met. We followed, supported and encouraged each other's zest for life and pure joy for dance and well-being, and both of us were determined to keep as many people dancing and singing as we possibly could.
"We talked about our businesses and followed each other's journeys. Jemma and I planned on bringing DanceSing to her studio as a regular class and also about doing a giant fundraiser with her students, parents and DanceSing for Friends of Anchor who supported her through her illness.
"Jemma was all about giving back. We had a big plan, and DanceSing will work to fulfil her dream in the future."
The venture is an inter-generational initiative, which has been designed to attract people from all ages and backgrounds.
It has also been designed to tackle the increasing problem of social isolation.
Ms Garry added: "We have people coming along who have lost their partner, or have nobody, or perhaps they are newly retired and they say it has been a lifesaver, giving them support, encouragement and a sense of purpose.
"When members aren't attending the classes, they can participate in performing at charity fundraising events. There are also many fun nights such as DanceSing and Dine and a lot of socialising over coffee or lunch after classes."
Mrs McRae, who was first diagnosed with the illness in 2014, raised thousands of pounds for cancer charities through events like Dream, Dance, Donate, which saw people from all walks of life taking part in tap, ballet and jazz classes at her studio.
Further information is available at