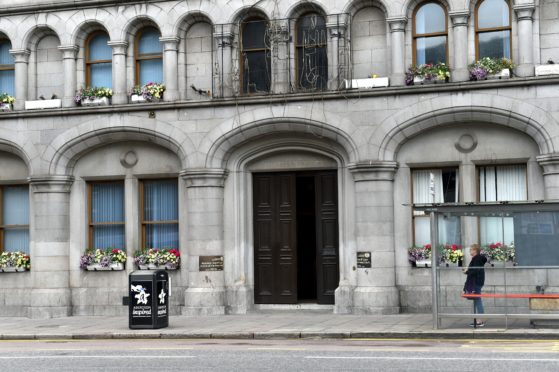 A man who told police he wanted to "punch their faces in" has been fined.
Police were initially called to Commercial Quay in Aberdeen following reports of a disturbance at about 2.30am on July 24.
They found Luke Sedgwick wandering around the area shouting, and noticed he was "heavily intoxicated" and his "speech was slurred".
Aberdeen Sheriff Court heard yesterday they believed the 26-year-old was under the influence of drugs.
Fiscal depute Gavin Letford said Sedgwick "pointed to a nearby lorry" and said: "I'm going to get on that bus."
When officers intervened, he resisted them and was eventually restrained on the floor.
He added that on the way to the station, Sedgwick told officers he "could not wait" to "punch your faces in".
Sedgwick, of Palace Road, Orkney, yesterday admitted obstructing officers by tensing his arms, struggling and attempting to escape.
He also admitted behaving in a threatening and abusive manner on the way to the police station by shouting he would assault the officers.
His defence solicitor said Sedgwick had got drunk while waiting for the ferry back home to Orkney.
He said: "What should have been an enjoyable weekend turned into a nightmare.
"He travelled into Aberdeen after being at a wedding in Dublin.
"He was in Aberdeen with the intention of getting the ferry back to Orkney, but had a number of hours to wait and has too much to drink.
"He said he has a scant recollection of the incident and he has obviously spent time in the cells as a result.
"He very much regrets it."
Sheriff Graham Buchanan fined him £830.