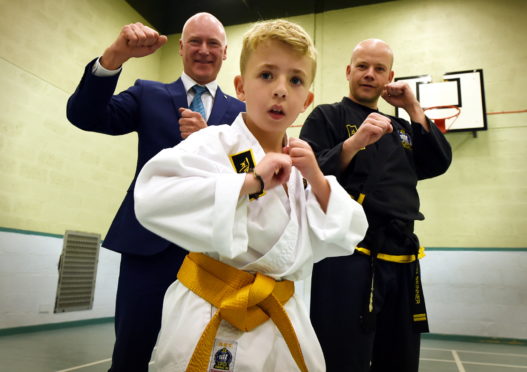 A 10-year-old boy whose life was saved when he received two transplants as a baby has encouraged others to consider signing up to donate their organs and tissue after death.
Young martial arts enthusiast Alex Crichton was born with a congenital heart defect and required open heart surgery twice to correct it – first when he was two weeks old, and again at 18 months.
Yesterday he joined Public Health Minister Joe FitzPatrick to launch this year's Organ Donation Week and highlight the importance of joining the register.
Alex's mum Julie said it is crucial that people take the time to broach the subject, even if it can be a difficult one.
"The donations mean that we still have Alex here today, and I can't put into words how grateful I am," she said.
"It's just very humbling that someone has said goodbye to their child, and made a decision that has allowed me to keep my son.
"Organ and tissue donation is a difficult conversation to have, but it could save a life.
"So many people don't make their wishes known to loved ones and so many organs go to waste because relatives aren't aware of what they wanted to happen."
Alex, who is in primary six at Crombie School in Westhill, is hoping the message will be spread far and wide this week.
He said: "It's life-changing and it also makes people happy that someone has donated an organ.
"If you want to do it you can ask your relatives, and then they can ask their relatives if they want to do it."
Next year the law surrounding organ and tissue donation will change from opt-in to opt-out, where it will be assumed someone is willing to be a donor unless they have specified otherwise.
Mr FitzPatrick said: "The important thing about this week is raising awareness of organ donation and it's great to see Alex and how his surgery transformed his life.
"The overwhelming majority of people in Scotland would want their organs and tissue to be donated but for a lot of folk, it's just that they haven't got around to signing up.
"The new legislation will help because it will make it important for people to have that conversation with their family."
"Having that discussion shouldn't be something that people shy away from."
'He will prove you all wrong'
Alex Crichton was two weeks old when he underwent a life-saving seven-hour operation to have a donor heart valve inserted 10 years ago.
He was flown from Aberdeen to Glasgow for the procedure and spent five weeks recovering before he was well enough to be taken back home.
While he continued getting better over the months that followed, later tests showed that his heart valve had calcified and he needed another operation when he was one-and-a-half.
His mum, Julie Crichton, said: "Alex's congenital heart defect was diagnosed when I was pregnant, so I knew he'd need surgery soon after he was born.
"Doctors were always very honest that Alex would always need a second surgery, as the transplanted valve wouldn't grow with him.
"We were aware that there may need to be a third, fourth or fifth procedure to keep his heart functioning."
Alex had his second surgery in December 2010, but suffered a number of seizures which damaged his brain when he was removed from the ventilator.
His mum added: "Initially the prognosis was quite bleak.
"We were told he was being kept comfortable and that, if he survived the weekend, we would take things from there.
"I actually stood up and said 'he will prove you all wrong'."
While Alex still receives therapies, he has had no further cardiac problems since.
Ms Crichton said: "We have Alex, as well as he can be, always with a smile on his face.
"He's happy, challenging, determined and cheeky, he's just my Alex."