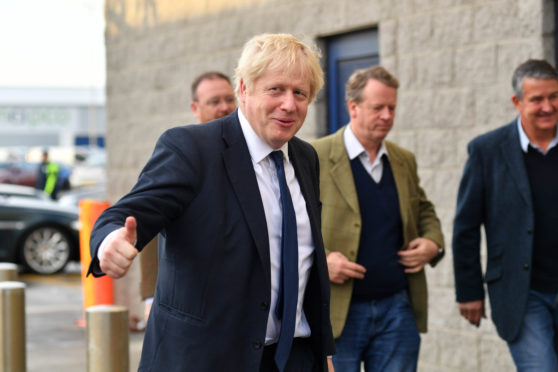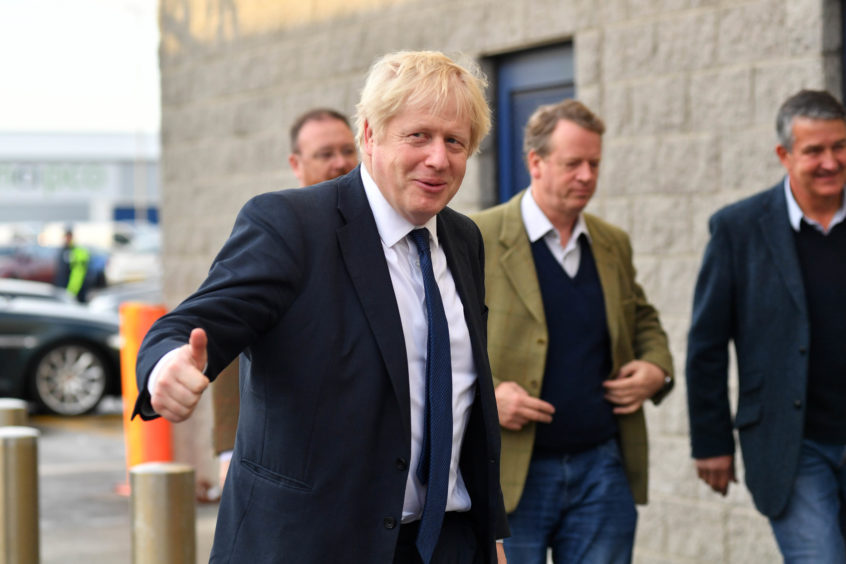 Boris Johnson has assured north-east fishing industry leaders that fish caught in the UK will be sold to Europe without restrictions after Brexit.
The prime minister made the vow as he visited Peterhead Fish Market yesterday morning to begin a tour of Aberdeenshire.
Accompanied by the Scottish Secretary, Alister Jack, the embattled prime minister was shown around the market and joined in the bidding for a box of cod, winning it with a £185 bid – which was thought to be "a little high" as an offer.
Mr Johnson watched the market process before having a short sail on the Opportunus boat, where he tasted some locally-caught fish.
Chief executive of the Scottish Seafood Association, Jimmy Buchan, said he was "assured" by Mr Johnson that fresh fish would continue to "flow through" European borders post Brexit.
Mr Buchan, who was a star of the Trawlermen TV series, said: "I asked him whether fresh fish will be able to flow through Dover to Calais on November 1.
"He gave me a firm commitment that he's working with the Minister of Transport so that fish can pass through and continue to their destination.
"He assured me that the fish would get through with no restrictions, these are the kind of commitments that the processing and fishing industry need."
But others were reluctant to take much reassurance from Mr Johnson's vow.
Chairman of the European Parliament's fisheries committee, Chris Davies, insisted that the future of the fishing industry remains uncertain in the event of a no-deal exit from the EU and accused the prime minister of using it as a "bargaining chip".
He said: "The prime minister should have explained to fishermen in Peterhead how he intends to transport fish to Boulogne in the event of a no-deal Brexit.
"This 'just-in-time' supply chain means fish must be in France within 12 hours of leaving Peterhead.
"That journey can only just be completed in time now – how does he suppose a massive border delay will solve that issue?"
Peterhead Port Authority chief executive, Simon Brebner, also said that crashing out of the EU without a deal could affect the "sea of opportunities" which membership brings.
He said: "Fish are being landed today, processed today, transported to France and tomorrow it's probably on somebody's plate for lunch.
"With no-deal, there's non-tariff issues like documentation and delays at the border.
"This is a perishable product so any delay reduces the quality and we don't want that.
"We'd like to see a deal with Europe, but one that works for both parties and not a one-sided deal."