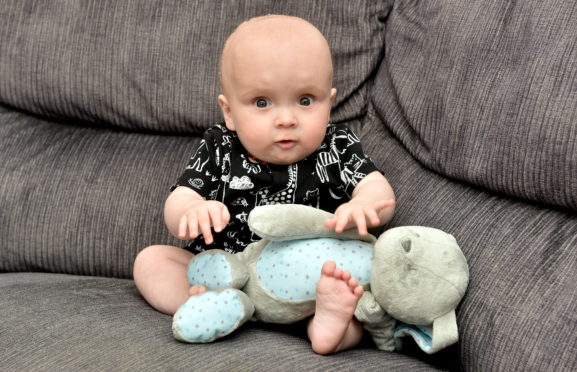 An Aberdeenshire mum has praised the surgeons who changed her son's life by taking his skull apart and then rebuilding it "like a puzzle".
Alana Brownie's seven-month-old, Fraser, was born with a condition called Scaphocephaly which causes the skull to grow in an abnormal way.
The condition affects one in 5,000 children and can cause brain damage or development issues.
Due to its rare nature, doctors initially failed to spot the abnormality – despite requests from the worried Sauchen mum to investigate further and she yesterday told of her battle to get Fraser the right treatment.
After a visit to the chiropractor, the 34-year-old was told to visit a GP but endured a nine-week period of uncertainty before being seen, with the mother-of-three chasing up information online about her baby's condition.
At her GP referral, she was wrongly told that an MRI would be required to investigate further.
But Ms Brownie was able to contact another woman whose son had also suffered from Scaphocephaly, who put her in touch with a surgeon from Glasgow.
The surgeon saw Fraser towards the end of June.
Ms Brownie told the Evening Express: "There were no CT scans or anything, he just said 'yes, he definitely has it'."
Fraser underwent major surgery at the Royal Hospital for Children in Glasgow at the end of last month.
Fraser's skull was removed into "small puzzle-like pieces" before being set and rebuilt with a series of plates and screws during the four-hour procedure.
Mrs Brownie, who is now looking to raise awareness for the condition, added: "I would urge anyone who suspects their child could have this to get in contact with their GP."