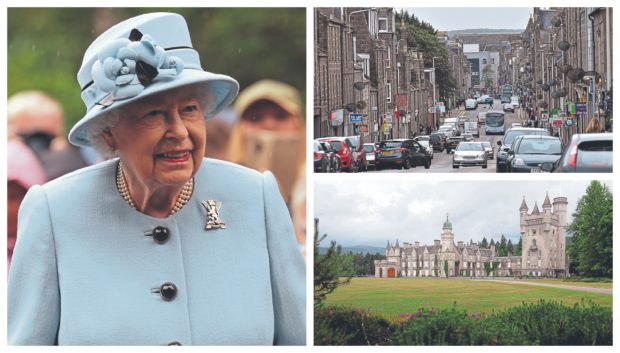 Police in Aberdeen have been unable to deliver on a promise to tackle the city's drug problems because the Queen has been at Balmoral Castle, it has emerged.
The Force pledged to increase efforts to crack down on dealing and related crime in and around George Street back in May.
They had been brought in for the month of December after complaints the scale of drug activity had reached "crisis point".
But four months on, police have confirmed the high visibility patrols expected to be taking place every Wednesday and Saturday have yet to begin.
It is understood requests for additional officers to walk the beat regularly have so far not been granted by bosses due to a lack of resources.
The Queen's residence at her Aberdeenshire summer home, security operations around Offshore Europe and Brexit preparations have been blamed, alongside a shortage of cover because of summer holidays.
Sergeant Allan Masson said: "We have patrolled previously but will have to go through a bid process to free up two officers regularly on weekday evenings.
"That is when drug dealing tends  to happen. It does also happen at weekends but it is more difficult to get officers then.
"I would say the wait has been down to things we must resource: the Royal Court, Offshore Europe and Brexit and even annual leave.
"I would be hopeful by next month we will have a start date or the patrols might have already started."
Dismayed George Street Community Council chairman Andy Macleod said: "I think we are the dumping area for Aberdeen.
"If the drugs were being openly sold in the posher parts of the city you can be sure there would be officers scouring around."
The community council has requested that when additional patrols do begin, officers are supported by police dog units.
Local area commander Chief Inspector Darren Bruce added: "I must stress that high-visibility patrols are carried out in the George Street area on a daily basis to tackle any form of anti-social crime or behaviour and to keep people safe.
"Additional operations to specifically tackle drug crime are planned at various stages throughout the year, and they form part of our local policing plan for the remainder of the year.
"Planned events must be appropriately policed and our resources prioritised across the north-east. Where significant numbers of people are attending such events, we have a duty to help keep people safe."
Scottish Conservative shadow justice secretary and North East MSP Liam Kerr said: "The people of Aberdeen need to know that the evil of drug dealing is being cracked down on.
"Selling these substances has a huge knock-on effect — deaths, people trafficking and antisocial behaviour.
"Police are working hard to cover the basics but are no doubt stretched by lack of resources.
"The UK Government just handed the SNP another £80 million for policing – enough for 2,000 officers.
"It's down to the SNP to make sure they get more boots on the ground in the north-east."