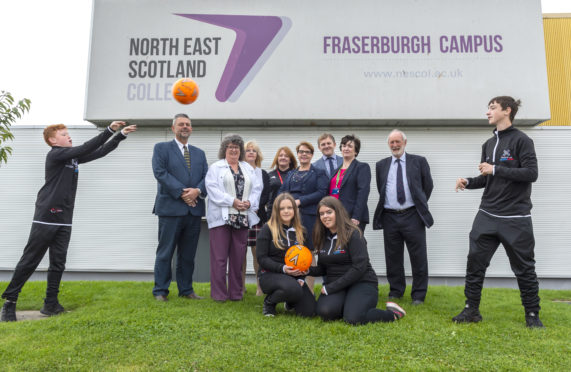 Fraserburgh Academy pupils will be helped to reach their academic goals through the power of football.
Following the success of the PeterDeen project – which works to support children at Peterhead Academy struggling with the traditional school curriculum – a sister project was launched yesterday.
To mark the occasion, project partners and pupils gathered at the North East College Scotland's Fraserburgh campus yesterday.
Councillor Gillian Owen, chairwoman of Aberdeenshire Council's Education and Children's Services Committee, said "We hope the scholarship programme in Fraserburgh will be just as successful as it has been in Peterhead.
"We're really excited to welcome in our new scholars and once again recognise the significant value of partnership working.
"We are very grateful to all of the organisations supporting this programme."
The initiative has been taken forward with the support of North East College Scotland and Aberdeen FC Community Trust and Score Group and takes pupils out of the classroom to take part in football coaching sessions, meeting volunteer groups and taking vocational qualifications while completing vital subjects like English and maths in school.
Youngsters taking part in the FraserDeen project will have access to facilities at the college, the use of the James Ramsay Pavilion in town and benefit from input from the Council's Work With Young People team.
There will also be several core classes at Fraserburgh Academy as well as expert coaching from Aberdeen FC Community Trust.
Steven Sweeney, community operations manager at the trust said: "Thank you to Aberdeenshire Council, North East College Scotland and Score Group for their invaluable support of the FraserDeen Scholarship.
"We are excited to work with our Fraserburgh Academy and CLD colleagues to help the young people further develop their skills for life, learning and work."
Last year's PeterDeen scholars are continuing with the programme in S4 and have been joined by their new S3 peers.