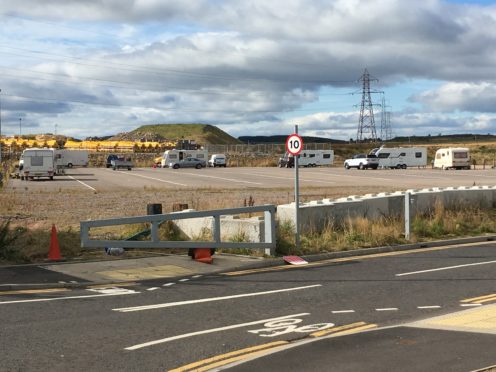 Council leaders are in talks with members of the travelling community to move them on from a site next to Aberdeen's newest academy.
Caravans were spotted on Sunday night by the new Lochside Academy in the south of the city and remained there yesterday.
Barriers were allegedly moved to allow the group of about nine caravans access to a nearby site on Wellington Circle.
Last night a council spokeswoman said the authority could seek to take enforcement action to move the travellers on "if necessary".
The £47 million Lochside Academy was first opened to pupils last August, replacing Kincorth and Torry Academies as a single secondary school for the south of the city.
Just weeks ahead of children moving in last year, a group of ten vehicles were camped at Wellington Circle but were served an eviction notice and vacated the site before lessons began.
Torry and Ferryhill councillor Alan Donnelly branded the latest encampment "disgraceful".
He said: "Fundamentally this is an illegal act. It would appear barriers were moved for access and in my mind it is little different to breaking and entering.
"We have long talked about solutions like halting sites but the respect has to go both ways."
Unauthorised encampments have long been an issue in the city, with the council often having to resort to expensive legal action to move on groups.
In 2017, Scottish Government ministers revealed they were telling councils to launch an early-warning system to monitor and track illegal traveller sites.
Local authorities were urged to keep watch over unauthorised encampments and share information about their movements with neighbouring regions.
It was suggested that councils also "identify particular locations" that can officially be used for unapproved sites.
This follows the lead of North Esk Park, at St Cyrus, which was established without planning permission in 2013 and has since been retrospectively approved for travellers.
An Aberdeen Council spokeswoman said yesterday: "Nine caravans and various vehicles have arrived at Wellington Circle on land near to Lochside Academy.
"Aberdeen City Council has engaged in dialogue with the group with a view to them vacating the site.
"We will use enforcement powers if necessary."