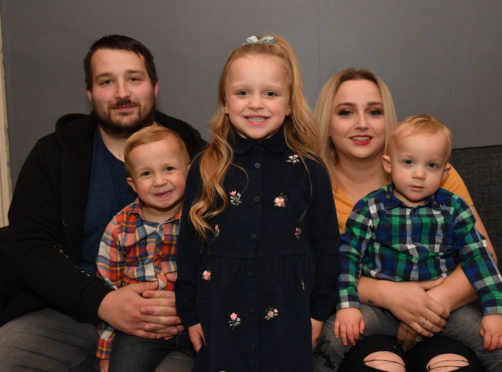 For most children, seeing their mum have an epileptic seizure would be a terrifying experience.
But when five-year-old Georgia Ral heard her mother Emily Peters making "funny noises" in bed, she went through to check on her.
Realising what was happening, the quick-thinking Strichen youngster sprang into action – grabbing her mother's phone to raise the alarm and making sure her little brothers were safe and calm.
The drama unfolded at about 5am on September 1, after Miss Peters' partner went to work.
The 27-year-old, who was diagnosed with epilepsy when she was eight, said: "We'd all gone to bed like normal the night before and in the middle of the night my youngest son River, who is two, came into our bed.
"My partner left for work as normal at 5am. Georgia got up and heard funny noises so came to the bedroom and saw I was having a seizure.
"It has never happened before where there hasn't been another adult there.
"Georgia took Mason downstairs so he wouldn't get scared and put the TV on for him.
"Then she came back up and watched River who thought it was a game as I was making funny noises and dancing about on the bed.
---
>> Keep up to date with the latest news with The P&J newsletter
---
"I've always told her the passcode to my phone so she can use it in an emergency so she looked through and found 'Dad'.
"She ended up calling my dad, Martin, who lives in Gardenstown and he heard what was happening and called an ambulance while staying on the phone with Georgia until paramedics came."
An ambulance arrived at the scene and helped Miss Peters come round from the seizure while Georgia sat with her, making sure she was all right.
"Bless her, she really did save my life," said Miss Peters.
"She's so careful now and if I say I don't feel well or have a sore head she asks 'do you feel epileptic?'
"She was a bit worried after and keeps asking about it but if she wasn't there to help her brothers in that situation and kept everyone calm then they would have been left running about themselves.
"She's such a brave little girl. I'm really proud of her."