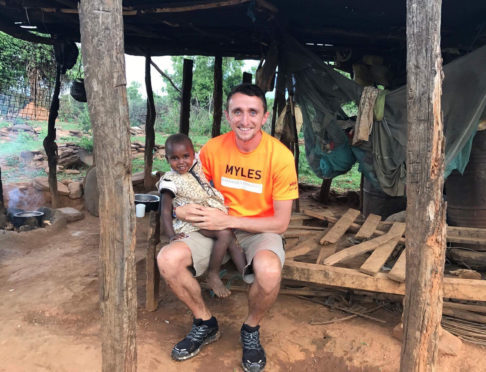 An Aberdeen athlete has completed a special birthday challenge to raise money for children in Kenya.
Mr Brown, who turned 64 on August 30, has travelled 10 miles every day in the last few weeks to raise funds for James Gikeero whom he has been sponsoring through the Gathimba Edwards Foundation.
So far he has run 320 miles in 32 days and amassed more than £2,800, but hopes to receive a few more last minute donations.
Mr Brown said: "When I retired, I took my chance to see some more of the world, and I love animals, so I went to Kenya to see a safari.
"I was amazed by the things I saw, but what really shocked me was how some people have to live out there. Having already known Myles Edwards (the founder of Gathimba Edwards Foundation) for a number of years, I wanted to help achieve his vision of helping as many people as we can. It has changed my life being able to help others."
The foundation's journey started when Mr Edwards originally met Gideon Gathimba while the pair were competing against one another in 2009 at the opening of the Aberdeen Sports Village.
In total, they have now built 34 houses for 162 kids and have been able to expand their support to a total of 379 children's education, shelter and clothing, seminars, counselling, sustainable food solutions and various other initiatives across Kenya in areas such as Iten, Chaka, Karatina, Eldoret and Kitale.
Many volunteers have subsequently joined the duo's mission to help better the lives of people who are struggling with poverty in  the African country.
Mr Edwards said: "Alan is a force of nature, he has spent his whole life helping others. When he told me about the challenge, I thought it was crazy, but here he is at 64 running 320 miles in a month. It's amazing and we are lucky to have him."
In addition to raising money to help build a house for James, Mr Brown is also sponsoring the teenager's education.
For more information about the charity, visit:
https://gathimbaedwardsfoundation.org/