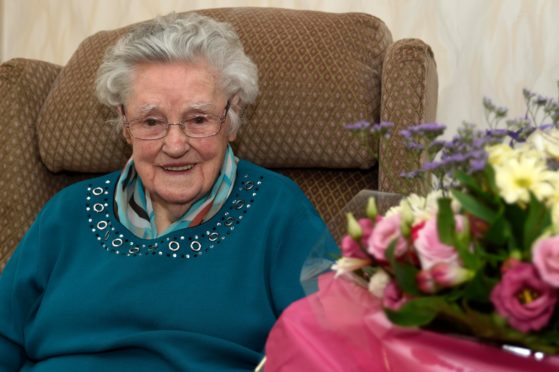 A north-east family has paid tribute to their "remarkable" great-grandmother, who said "not eating anything fancy" helped her reach the age of 104.
When Helen Mary Wallace was born at the end of 1914, the first transcontinental telephone call was made and the First World War had been raging for only a few months.
Mrs Wallace, who was from Macduff and lived in the north-east her entire life, leaves behind 10 grandchildren and 20 great-grandchildren who she "absolutely adored".
Helen Barron, one of her five children, described her mother as "a quiet but unassuming woman who loved to spend time with her family".
Mrs Barron said that her mum's 100th birthday, which was covered in The Press and Journal in 2014, was an especially cherished memory.
She said: "I have a lot of wonderful memories of my mother but her 100th birthday was a particularly memorable day."
On that milestone occasion, councillor Mark Findlater presented Mrs Wallace with flowers on behalf of Aberdeenshire Council – which he described as being a "real honour."
Last night, Mr Findlater said: "She was a remarkable woman who was full of fun and life.
"I have many fond memories of Mary from driving the minibus she took to church."
Mrs Wallace was the type of person "who liked to keep herself busy", and was a keen member of Macduff Parish Church.
Mrs Barron said: "It didn't matter if it was rain, hail, or shine, my mother always loved going to church."
Mrs Wallace, who worked as a maid, was at one point the oldest member at her church and was still attending services at 100 years old.
The secret to Mrs Wallace's long and fulfilling life is something of a mystery but Mrs Barron reckons it was something to do with her diet.
She said: "My mother didn't like eating anything fancy, she always kept it simple. She enjoyed her porridge oats in the morning and enjoyed mince and tatties for dinner."
Lord Lieutenant of Banffshire, Andy Simpson, has fond memories of Mrs Wallace from church.
He said: "I remember when Mary presented flowers to the church's former minister Calum Stark, when he stood down in 2015. It was, of course, a very kind thing to do."
Mrs Wallace was married to her husband Sandy for 56 years before he died in 1992. They raised five children together; Iain, Julie, Helen, Douglas and Alan.
Mrs Wallace died at Dounemount Care Home on September 19.