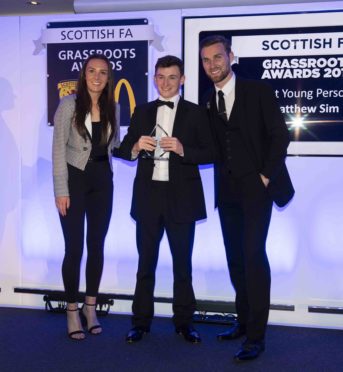 A Turriff teenager held back from playing football due to his asthma has won a national award for being a volunteer coach.
Matthew Sim was crowned the Best Young Volunteer winner at the 2019 Scottish FA Grassroots Football Awards this month.
The 17th Grassroots Football Awards, run in partnership with McDonalds, recognise and celebrate volunteers and clubs across Scotland who dedicate their time to local football.
At the ceremony in Hampden Park, 16-year-old Matthew was recognised nationally for his work with Turriff United Youth FC, accepting one of the 11 prizes awarded on the night.
Due to suffering his asthma, he is unable to train or take part in football matches.
Instead he uses his passion for the sport to coach others and works to better understand the game in a bid to boost the teams.
Despite his young age, Matthew is one of the most qualified coaches at the Turriff United Club.
Without him there would be only one coach for the girls and under 17's division.
McDonald's Fun Football ambassador Sir Kenny Dalglish said: "The people who have been honoured in these awards are true grassroots heroes.
"The sport that we all love would be in a much worse position if they didn't dedicate the hours that they do.
"Congratulations to Matthew for his achievements and continued commitment to grassroots football."
Craig Duncan, local McDonald's franchisee and avid Aberdeen grassroots football supporter, said: "It is great to see someone from Aberdeen win a national award. Matthew represents everything that is good with grassroots football.
"He is a shining light in the local community and hopefully he will continue to have a positive impact for many years to come."