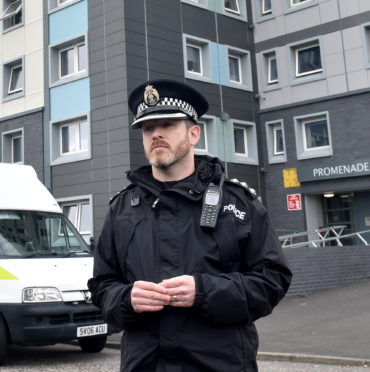 Police are appealing for help to track the final movements of a woman found murdered in her own home.
Margaret Robertson, known as Meg, was last seen on the ground floor of Promenade Court in Aberdeen on Tuesday at around 6.52pm.
The 54-year-old was found dead in her flat in the block at lunchtime on Friday.
Yesterday, detectives said there will be a 24-hour presence near the scene of the murder as they appealed for anyone with information to come forward.
They are particularly keen to piece together Ms Robertson's final movements by speaking to anyone who saw her after Tuesday evening.
Detective Inspector Gary Winter, of the major investigations team, said: "My thoughts are with Margaret's family and friends in this tragic time, we have liaison officers supporting them as we speak.
"I'm limited in what I can say, but my appeal is threefold.
"Firstly, Margaret was last seen at 6.52pm Tuesday, September 24 on the ground floor of Promenade Court. I'm appealing for anyone who knows of any sightings of Margaret between that period and when she was found at 1.20pm on Friday.
"Secondly, it's our belief that the person or persons responsible for Margaret's murder may be contaminated with blood either on their clothing or on their person.
"I'd appeal for anyone with information about anyone with blood on their clothing or on their person between the time period of 6.52pm on September 24 and Friday, September 27 at 1.20pm to get in touch with the police.
"Lastly, a general appeal in terms of anyone who has information they think may be relevant to Margret's murder to come forward and let us know."
Specialist police resources from across Scotland have been deployed to Aberdeen to work on the investigation.
Area commander Chief Inspector David Howieson sought to reassure residents.
He said: "I understand that a violent crime of this nature causes significant concerns in the community and I would like to provide some assurance that an extensive police inquiry is ongoing and being carried out by local, national and specialist resources.
"To that end, there will be an increased police presence in and about Promenade Court for the foreseeable future, including a police pod that will be manned 24-hours a day."
Local resident George Thomson yesterday paid tribute to Ms Robertson and said she was well-known in the community.
"I knew Meg really well, she would come to mine for tea two or three times a week and we would chat.
"I just stay a few buildings away, she was really well known by everyone and really outgoing.
"It's so sad, I'm totally shocked and still coming to terms with it."
Seaton councillor Ross Grant, said: "The residents in Promenade Court are incredibly close-knit and have been left in shock at this. I have sought assurances from the council that there be support in place to liaise with any resident who feels they require support.
"Clearly it is imperative that anyone who has the smallest piece of information in relation to this incident come forward and help the police in their inquiries."