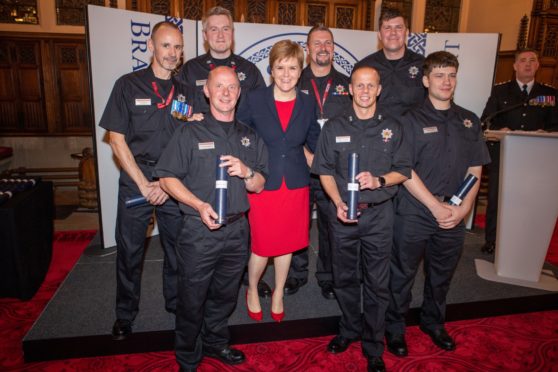 Have-a-go heroes and exemplary members of the emergency services across Scotland were awarded for their acts of extraordinary bravery at a special event last night.
This year's Brave at Heart awards, held at Edinburgh Castle, highlighted 56 people who went above and beyond in moments of high stress or danger.
Police, fire, ambulance and other emergency responders were among the 56 winners, as well as members of the public who leapt into action in critical situations.
Included in this year's list of winners are fire fighters from Ellon, Laurencekirk, Aberdeen and Inverurie.
They were recognised for their efforts in safely extracting a critically ill patient from his home during horrendous winter weather.
Others included paramedic Angus Galbraith from Lerwick, who came to his neighbour's aid while off duty, after they suffered a cardiac arrest at home.
Will Maddox and Dominic Booth, both from Aberdeen, were granted Brave at Heart awards for entering a burning block of flats to raise the alarm, resulting in all occupants being evacuated before the fire service arrived at the scene.
And Hayley Budge, from Kirkwall, received her award for coordinating the rescue of and providing CPR to a person trapped on rocks below a cliff during dangerous weather conditions.
The awards were granted by Scotland's First Minister, Nicola Sturgeon.
Speaking soon after the ceremony, the First Minister said: "These awards recognise acts of true courage by members of the public, our emergency services and our voluntary rescue organisations.
"They are our way of saying a very big thank you to individuals who, through their bravery, have made a very positive difference to Scotland.
"Every single one of tonight's award winners provides an extraordinary story of courage and calmness under pressure.
"Their spirit of selflessness and bravery is an inspiring example to us all."
Chief Inspector Andy Thomson, a member of the Brave At Heart 2019 panel, added: "The panel were unanimously agreed that the nominations were all of a very high standard, demonstrating selfless acts of courage and in a number of situations, exceptional acts of bravery."