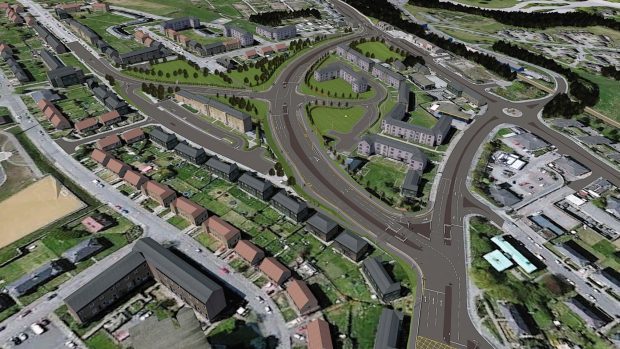 Aberdeen motorists face months of disruption and road closures around a notorious traffic bottleneck as aging gas lines are replaced ahead of a multi-million pound roads project.
Scottish Gas Networks (SGN) have announced about 16 weeks of work will begin on Monday, pausing between Christmas eve and January 6.
They will enable old metal pipes to be replaced with new steel models in the area around the Haudagain roundabout.
Work on the city's new £30 million through-road – dubbed "the Haudagain bypass" – from North Anderson Drive on to Auchmill Road, will also begin in the near future.
It is intended to take vehicles away from the busy roundabout – a detested chokepoint once dubbed the worst in Europe.
The gas works that will precede the start of the major roads project have been split into three phases.
The first will begin on Monday and will require the closure of Wilkie Avenue for around three weeks.
SGN spokeswoman Katie Lobban said: "We've worked closely with the local authority in planning this project.
"We understand that roadworks can be frustrating, but our essential work will ensure a continued, safe and reliable gas supply for local residents and commuters for many years to come."
At the end of October, work will move on to Fowler Avenue, at its junctions with Wilkie Avenue and Smithfield Drive.
Road closures will be in place around the works, with the aim of finishing this stage by Christmas Eve.
The final stage is expected to begin on January 6 and will involve the laying of new pipes in Smithfield Drive. Again, it is expected to be closed for three weeks.
Access will be maintained for residents at all times during the closures and signed diversion routes will be in place.
Aberdeen Donside MSP Mark McDonald said: "It is inevitable that these works will cause significant disruption.
"While it is great to see the Haudagain improvement project continuing to move forward, it remains the case that people will have to tolerate long periods of disruption to enable the necessary works to be undertaken."
Northfield and Mastrick North councillor Gordon Graham said, ultimately, the bypass project would "bring benefits, including a reduction in traffic.
He added: "I would urge folk to plan their routes carefully before setting off as it is very frustrating to get somewhere only to find the road closed and have to turn around again."