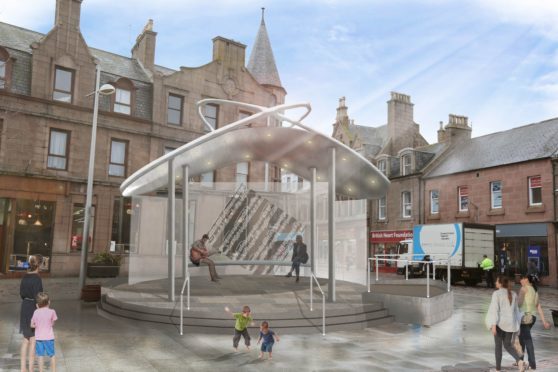 The cost of a project to breathe new life into Peterhead town centre could soar to £250,000.
Aberdeenshire Council has revealed the revamp of Drummers Corner could cost more the £215,000 first intimated.
It comes as plans for the new bandstand, lighting, seating and artwork were lodged.
If approved, work could start as soon as spring – and be complete in time for the town's busiest time, Scottish Week.
A council spokesman said: "Planning permission is required as the tender process has indicated that the value of works may be above the permitted threshold of £250,000.
"Due to the tender process and works associated with this, we are currently working on the basis of a construction window commencing in March with completion by Peterhead Scottish Week 2020."
Councillors previously hailed the revamp designs as "one of a kind" and "innovative" but some locals have questioned whether the revamp will succeed in bringing more people to the town centre.
Last night, businessman Gilbert Burnett was unimpressed at the rising costs.
Mr Burnett, owner of Buchan Aquatics, believes the money could be invested in a better way to give the town a more "communal feel".
He said: "I was unhappy with this project before and I think it's a disgrace that it'll cost more now.
"The money that's being invested in this could be put to better use to improve the town centre. For instance, it could be used to divide existing units into smaller units which could help local people start up their own businesses."
The aim of the project is to encourage people to use the square for events.
The planning application states: "The proposal is an environmental improvement project which includes removing some existing unsatisfactory shrub beds, retaining existing street trees, installing new public seating, installing new paving as needed, refurbishing and enhancing a public shelter with performance space and installing associated lighting and power supply for amenity value and supplying power to festivals and events.
"The proposal includes an element of public art to reflect the life and culture of Peterhead."
Councillors will consider the application in the coming weeks.