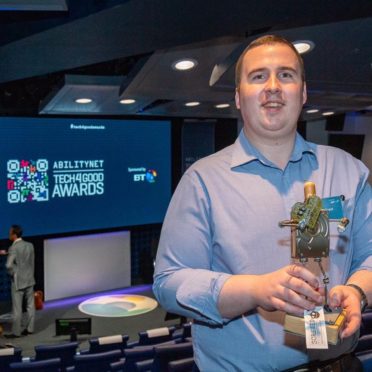 An innovative charity that assists the elderly and disabled to use the internet and technology, has proved to be hugely beneficial to residents throughout Aberdeenshire and the Highlands.
AbilityNet is a UK-wide charity, but 18 months ago it boasted just three volunteers operating in Scotland and the service was not readily available, particularly for those in rural areas.
Now, with the help of the Invergordon based coordinator Chris Grant, the Scottish branch of the charity boasts 53 volunteers and responds to an average of 200 calls each month.
Mr Grant began volunteering with the charity a year-and-a-half ago after suffering ill health.
And although his daily life is still afflicted with discomfort, he is committed to helping others.
"I wanted to do something that meant something and I liked the charity's ethos," Mr Grant said.
"Once I started volunteering, I had the AbilityNet bug from day one."
The 27 year-old's boundless enthusiasm for expanding the charity's reach was recognised in June, when he received the "digital volunteer of the year" prize at the Tech4Good awards in London.
Although Mr Grant is delighted by the accolade, he says the real reward is hearing from clients whose lives have been transformed by access to technology.
Thanks to the AbilityNet volunteers, clients can order their weekly shop from the comfort of their home and connect with loved ones over social media.
Others who are suffering from a terminal illness can skype their consultants without the exertion or cost of transport.
Jeanette Bradley, 39, has volunteered with AbilityNet since April and describes the service as "invaluable".
"It's really important in today's world, especially with the focus on internet banking, that elderly or disabled people who may never have had access to online know they can reach out to us anytime, as many times as they need to."
With their growing clientele, the charity is in need of more volunteers.
Mr Grant is encouraging the people of Aberdeenshire area and further north to get involved, whether they consider themselves to be tech-savvy or not, as they will be supported by the team.
The AbilityNet team can be contacted on 0800 269 545.