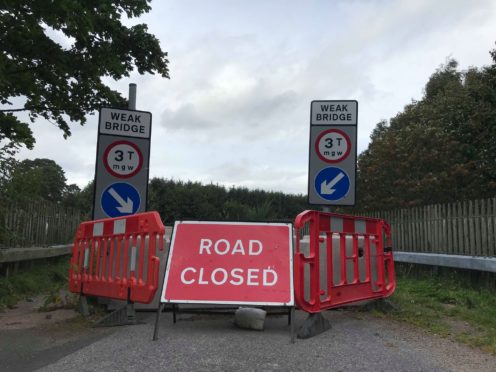 The UK government has been urged to intervene to help Aberdeenshire repair its stricken roads network.
North-east Tory MP Andrew Bowie detailed the region's dire need in a letter to Secretary of State for Housing, Communities and Local Government, Robert Jenrick MP.
In the letter he urged Westminster to release emergency funding for crucial repairs.
Aberdeenshire council is responsible for about 1,500 road and rail bridges, many historic and in poor condition or currently closed due to structural defects.
Over the last year within Mr Bowie's West Aberdeenshire and Kincardine constituency, two bridges were found to be unsafe.
Abbeyton Bridge was demolished as it was feared it would collapse onto the east coast main railway line and earlier this year the historic Park Bridge, which provides a vital link between the villages of Durris and Drumoak, was closed for safety reasons.
Recent flooding destroyed seven bridges in the Macduff and Turriff areas and caused significant damage to roads.
In his letter, Mr Bowie said: "As you will know, local authorities in Scotland and especially Aberdeenshire Council have received cuts to funding in recent Scottish Government budgets.
"It is therefore very difficult for Aberdeenshire Council to commit to replacement bridges."
Mr Bowie warned that the council does not have the sufficient funds to manage what he said was "fast becoming a crisis"
Although transport and infrastructure spending is devolved to the Scottish Government, the Scottish Conservative MP appealed to the UK Government to support Aberdeenshire council through the UK Stronger Towns Fund, which currently only helps communities in England.
Mr Bowie also asked that, if that were not possible, funds be directed to Aberdeenshire through the Barnett Formula, which splits cash between the devolved areas of the UK.
He said he had been prompted to make the call due to the Scottish Government's "lack of action".
A spokesperson for the Ministry of Housing, Communities and Local Government, however, said yesterday the Towns Fund was "England only", while the Barnett formula was a matter for the Treasury.
Earlier this month, the Scottish Government agreed to release extra cash for north-east communities left reeling by the recent flooding.
It activated the Bellwin scheme for the region – a funding mechanism designed to support councils with the price tags of dealing with emergency incidents.
A clean-up operation is currently under way to restore crossings and fix the damage, but it is estimated the storm will cost Aberdeenshire Council more than £1 million.
It should be able to call upon financial assistance for repairs in excess of that sum.