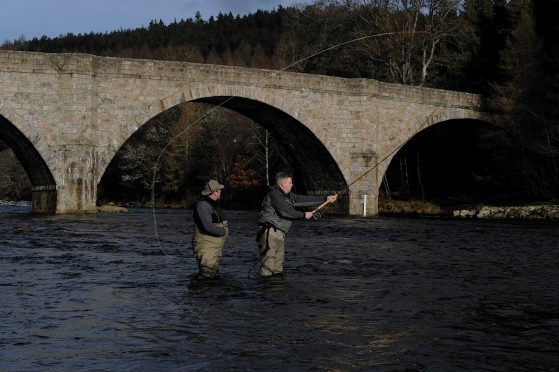 The number of salmon catches on the River Dee has remained steady for a third year in a row.
It is being seen as further evidence the Aberdeenshire waterway is recovering from the havoc wrought by Storm Frank four years ago and comes despite last summer's drought.
The River Dee Trust has published its latest annual review for the 2018-19 period and revealed 3,500 salmon were reeled-in on the river in 2018.
Although there were much fewer fish than previous recent highs in 2010, 2011 and 2012, when between 8,000 and 9,000 were caught each year, it continues a trend of relative stability in recent years of a little under or above 4,000 salmon.
Of the salmon netted by anglers in 2018, 99.5% of them were released back into the wild.
The 3,500 fish recorded comes despite significantly low levels of rainfall amid a heatwave last summer, which left river levels across Scotland at some of their lowest points in decades.
The river's ecosystem was also impacted by Storm Frank at the end of 2015. It caused millions of pounds of damage throughout Deeside.
The River Dee Trust's report said: "The drought throughout Scotland no doubt impacted these low catches, but the Dee retains its important contribution at a national level, again accounting for nearly 10% of Scotland's total rod catch.
"Every autumn, we count the number of redds – the equivalent to nests in the gravel where eggs are laid – produced at sites around the catchment to assess adult spawning levels.
"During spawning season 14 sites, each one kilometre (0.6 miles) in length, are surveyed.
"Most sites have been surveyed for at least seven years, so we can look for trends.
"In 2018, 30% of sites were above their long-term average, whereas 64% were below their average and one site was the same."
Concerns had previously been raised that invasive pink Pacific salmon could become a major problem in the Dee, after 31 were caught on the river in 2017.
None, however, were recorded on the Dee in 2018, and only a handful have been noted so far this year.