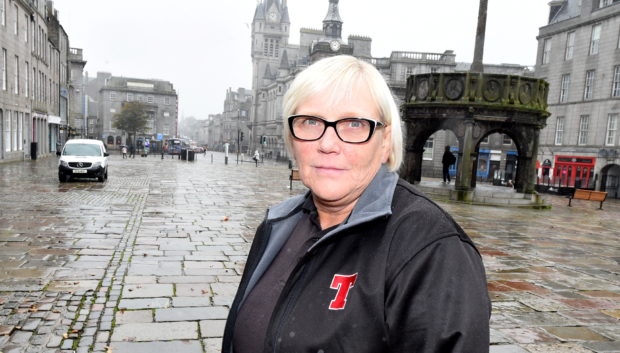 Angry shopkeepers have branded an area of Aberdeen's historic city centre "a disgrace" and demanded more cash is pumped in.
Retailers say customers are increasingly at risk from loose flagstones and setts in the Castlegate.
There have also been numerous complaints about the accumulated bird droppings on the Gordon Highlander statue.
Castlegate is envisaged as important "central civic space" in the 25-year city centre masterplan.
But while Broad Street has recently benefited from millions of pounds of council-funded improvements, Castlegate is still to be regenerated.
Gloria McHattie, manager of the Carlton Bar for the past 11 years, said maintenance was no longer being prioritised in the area, despite the presence of increasing numbers of tourists in the area.
She said: "It's an utter disgrace. I don't know why it seems to be ignored now.
"I have a lot of elderly customers and they are getting their zimmers stuck in the cracks.
"I can only imagine the claims the council are getting.
"We used to see council workers almost every day doing some job or other, but I can't remember the last time I saw any.
"Broad Street is absolutely beautiful now with the fountain operating and we want to see some of that same money coming here."
Maggie Lenahan, the manager of Bosies Breast Cancer Charity, said she was "dreading" the incoming winter weather as the stones will become even more treacherous.
She said: "We have had so many people coming in and complaining about the state of the Castlegate.
"Someone forgot something from the shop and I had to run out after them but gave up because I was scared of hurting myself. The flagstones are just so loose.
"It's a shame as it could definitely be a tourist attraction but instead just gives a bad impression.
"I'm dreading the winter when it will get even worse."
A third shopkeeper, who didn't want to be named, added: "The pedestrianisation in the 1980s changed everything really.
"We have been a bit cut off since then and it's sad to see what has happened over the years."
George Street and harbour Conservative councillor Ryan Houghton said Castlegate remained a part of the city centre masterplan but that each project would have to be "properly scrutinised" as it comes forward.
"This part of the city has seen major regeneration since the Broad Street development and we all recognise that Castlegate will also be part of the masterplan," he said.
A council spokesman said: "Our roads team continue to inspect the setts in the Castlegate and undertake repairs as appropriate."