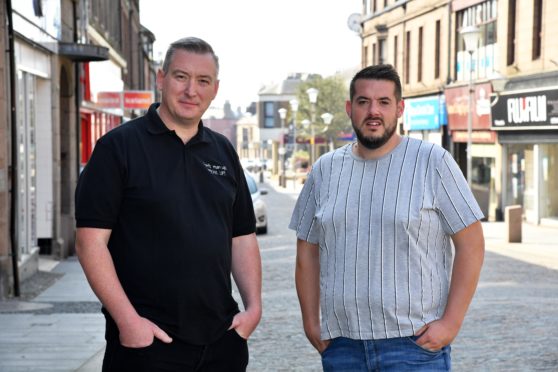 A men's mental health support group in Peterhead is expanding.
Former bouncers Sandy Garvock and Aaron Ritchie started Men United in Peterhead in August after a spate of men taking their lives.
The pair were tired of hearing the phrase "man up" and decided to create a safe space, free from judgement, for men to open up if they are struggling.
Promoting the message "don't man up, speak up", the Peterhead support group is already being used as a valuable resource with more than 20 people attending the weekly Monday meetings.
Now, Men United is launching in Fraserburgh where there will be fortnightly meetings.
Mr Garvock said: "The Peterhead group has grown drastically and a few guys from Fraserburgh area had inquired so we decided to try fortnightly meetings there.
"So far the group gets at least 20 every Monday in Peterhead. We also run football and fitness sessions, and this week we are joined by PJ Coutts with his Archery Tag trying to get the guys to be active as well as working as a team.
"We have successfully intervened and prevented three suicides in the passed nine weeks and many guys are saying that group has really helped them to see a way out of how they are feeling.
"It's been very humbling seeing these guys come along feeling so low with little motivation in life, and a few weeks later they're turning up and really getting involved and sharing about the good things happening now instead of the negatives.
"We encourage guys to stop looking for negativeness and focus on at least one good thing every day and it's really helping them.
"It's great to have men admit that they are loving life again and looking forward to their futures, but we are very aware there's many more out there who haven't reached out to us yet and we really encourage them to drop us a message."
The location of the meetings are kept private to avoid any judgement of those turning up. There are also sessions at Shirley's Space on Thursdays from 7pm-9pm.
To get in touch with the group or find out about the meetings, visit the Men United Facebook page or e-mail menunitedphd@gmail.com
On November 29, the group will hold a fundraising concert at the Tavern Lounge, Peterhead from 7.30pm. Local group Rise will entertain. Tickets at the bar.