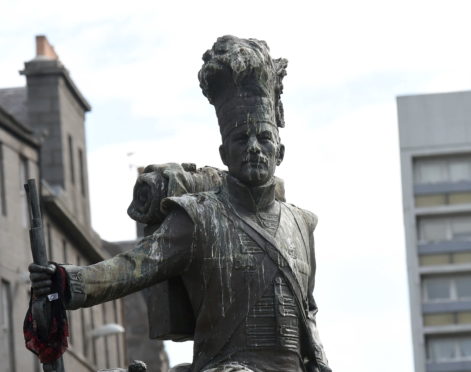 A former US army veteran is launching a new battle in Aberdeen- against gull mess blighting a statue honouring the region's most famous regiment.
Joshua James served in both active and reserve roles in his homeland's military, seeing combat in Afghanistan.
But now since starting his life in the Granite City, he has decided to battle the bird mess at the Gordon Highlanders statue on Castlegate in his sights.
He plans to gather a group of volunteers and clean it before Remembrance Sunday- which this year falls on November 10.
The monument was unveiled by Prince Charles, the last colonel-in-chief of the historic regiment, in 2011.
However, it has suffered constant bombardment from the city's gull population, leaving the metal badly stained.
It is understood it is not just the stain from the mess itself that is causing damage, but also the acidic "bleaching" effect that comes from the guano.
Last September the council applied a gel to the statue to deter the birds following a wave of complaints about the mess.
But last Remembrance Sunday several veterans complained about the state of the statue.
Mr James, now a student, said: "I think it's a great statue but it's a bit of a pity it seems to have been a bit neglected.
"In the army we were taught to leave a place cleaner than we found it and I think that is what I'm looking to do here. "
Rosemount and Midstocket councillor Bill Cormie had helped facilitate meetings between Mr James and council bosses.
He said: "Obviously he is very passionate about the statue and I think it is great to see someone taking such a strong interest in it.
"Unfortunately I understand that the bird mess is causing severe staining. But I congratulate him and wish him the best in tackling this problem on what is a very emotive statue for the people of the north-east."
Last night a council spokesman said the statue was regularly cleaned ahead of Remembrance Day but consideration would be given to Mr James' "kind" offer.
He said: "We always undertake intensive hand wash cleaning of the Gordon Highlanders statue ahead of Remembrance Day in any event to help ensure that the statue is looking its best on what is a very important day in the calendar.
"Nevertheless, we will be talking to Mr James about his kind and public-spirited offer to agree what cleaning methods his group is to use."
To contact Mr James about volunteering, e-mail: jdjames@studyasap.com