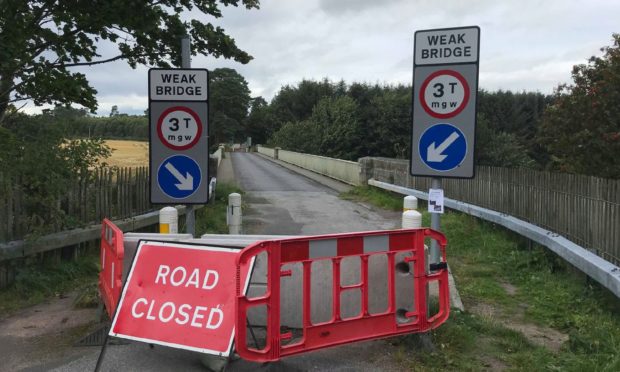 Villagers have raised doubts that a bridge temporarily closed for structural repairs will ever reopen.
Park Bridge, which links Drumoak and Durris, closed earlier this year after an inspection revealed major structural issues.
Aberdeenshire Council has held a number of meetings with the community to discuss its future, including a £12.4million replacement project.
But now members of Crathes, Drumoak and Durris Community Council fear their efforts will be in vein after a new council report laid bare the authority's priorities for roads and infrastructure.
They claim their bridge has been put on a "conveyor belt" towards being abandoned altogether.
The report outlines four investment options to secure the future of Aberdeenshire's crumbling network of bridges, and half of them explicitly exclude working on Park Bridge.
Hugh Fraser, from the CDDCC, has written to the council's chief executive Jim Savege about the options for the vital River Dee crossing.
He said: "I think Park Bridge has been put on the conveyor belt to outright closure, and this new report seems to echo that.
"We're feeling very agnostic about the consultation process, and we have now written to the chief executive raising our key issues about the bridge.
"We really want to bring this to a head and just finally get some clarity."
Aberdeenshire Council is responsible for the maintenance of 1,302 bridges throughout the region.
Due to the historic nature of around 90% of the crossings never being built to support modern day vehicles and their weights, a great deal of the bridges have been plagued by structural issues.
As well as issues caused by traffic, over the past few years extreme river spates due to major storms have caused millions of pounds of damage throughout Aberdeenshire's bridge network.
As a result, it has been estimated the gross replacement cost for all of the authority's bridges would be £211 million.
Over the past decade, an average of £1.63 million per annum of capital funding has been spent replacing, strengthening or other work on Aberdeenshire's bridges.
A spokeswoman for Aberdeenshire Council said: "We are working through all the feedback gathered as part of the community drop-in sessions and are considering all possible options.
"Our priority remains the safety of the travelling public in light of the bridge's structural weaknesses.
"We will provide an update on the next steps at the earliest opportunity."
More than 1,000 people have signed a petition calling for the bridge to be reopened.
A lengthy diversion is in place in the meantime.