Jailbird is not your average cockerel. Feisty would perhaps be a polite description of his rambunctious personality.
He likes to think he's popular with the ladies, and enjoys life at Willows Animal Sanctuary in the Aberdeenshire countryside.
He's not alone with his quirky traits, for many residents of the sanctuary at New Pitsligo are somewhat unusual.
There's Ralphie the cow who loves being cuddled, and Arthur the earless cat.
He appears unperturbed by his missing ears, and is happy to bask in the sun after surviving cancer.
Ralphie's best friend, Ruby, was born with dwarfism and declared not fit for breeding.
Difference is celebrated at Willows Animal Sanctuary, and her deformed leg has not prevented Ruby from becoming a firm favourite with both staff and visitors.
With the tattie holidays drawing to a close, the dedicated team at Willows has welcomed the public with open arms.
It may be the biggest animal sanctuary in Scotland, but Willows is also a charity and relies entirely on donations.
I arrive just after opening time on a crisp and sunny morning, to be greeted by excited barking and some insistent quacking.
With the mist slowly rising from the paddocks, Willows is clearly a haven for animals of all shapes and sizes.
There is a wonderful sense of calm despite the odd neigh and woof, for each and every resident has arrived here for a second chance at life.
The charity was established in 1999, with a vision that was both heartwarming and simple.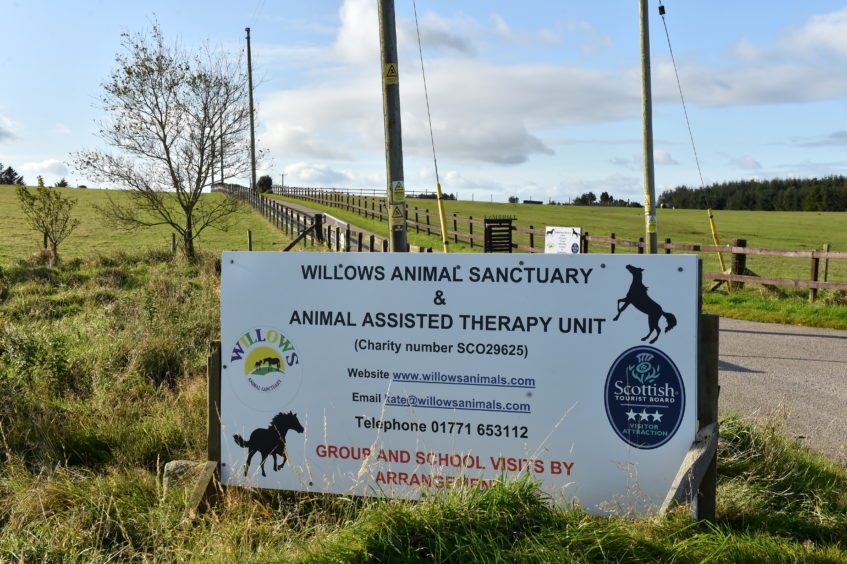 Willows was to be a place where rejected animals could find a home, be it a feral cat or geriatric goat.
Staff also hoped to educate people on care and compassion for animals, with a focus on allowing furry residents to interact with visitors on their own terms.
Fast forward 20 years and all expectations have been exceeded.
Alongside the many affectionate residents, people can enjoy a vegan cafe that serves up favourites including a "moo free" burger and classic jam sandwich. There is also a gift shop and beautiful memorial garden, which is home to fairy houses and plaques that bear the name of loved ones.
Manager Vikky McDonald has already been up for several hours as the team, which consists of 11 people, usually starts work at around 6.30am.
There's mucking out, feeding and grooming to be done before the gates are opened – and work can continue until roughly 7pm.
There are around 450 animals, although the numbers change regularly due to new arrivals.
Although Willows is only open to the public from Thursday to Monday, staff are on hand for 365 days of the year.
"You can't buy dedication like this, we work until everything is done," says Vikky.
"How long have I been here?… goodness! It must be pretty much from the start, so I've seen just how much Willows has grown.
"I wouldn't change my job for the world, I love animals.
"It's hard not to spend all day cuddling some of our residents. Ralphie gives an excellent cuddle.
"He came to Willows as a calf from a dairy farm.
"A woman had actually rescued him when she was visiting the farm on a school trip.
"She felt a connection to him and ended up buying him from the farmer.
"He's one now and he loves having a bit of fuss.
"We ended up getting him a friend called Ruby. She was born with dwarfism.
"Then there is Arwen, she's older and she mothers Ruby and Ralphie.
"She's the matriarch of the group, we call her Mrs Moo."
Willows is home to an eccentric mix, and the animals are housed in paddocks and stables, depending on their breed.
There are more than 100 horses, although some can be sent out on loan or go to a foster home.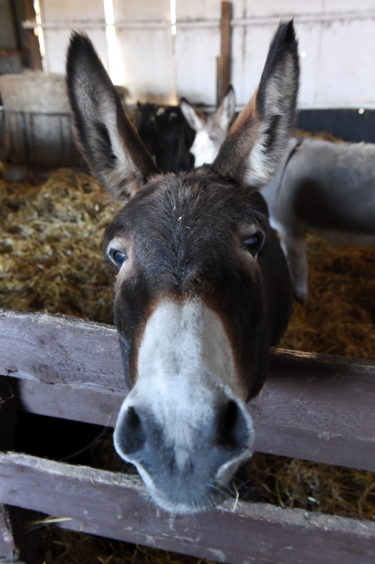 The majority of horses cannot be ridden, for various reasons, and there are also 16 donkeys.
"We've got some right characters; donkeys can be really sociable," explains Vikky.
We head through to the cosy barn, and several donkeys push their way to the front before investigating my coat pockets.
"If they nudge you, that's their way of asserting themselves and saying, 'Hello, have you noticed me?'" Vikky says.
"They can be quite forceful with it, they're just misunderstood creatures, though.
"We've got Eeyore, Boris, Jacob and there's Moses.
"Boris was going to be sold for meat and he was terrified of people when he arrived.
"I think some of our oldest residents would be a pair of ponies called Sammy and Chyanne.
"They must be in their 30s by now."
We continue on our walk and greet several horses, who stick their long necks over the stable door and toss their heads expectantly.
I stop several times to pet a passing cat, and it would appear that dozens of felines are leisurely washing themselves in the sun.
Willows is home to 66 cats, all of whom arrived because they were not suitable for rehoming.
Vikky explains that some of the cats are feral and had to be moved on due to fighting, and other cats are not house trained.
Two wooden shelving units can be found within one of the barns, and contain dozens of cubby holes.
Each individual slot houses a soft pillow in alternating colours of pink and purple, and a few spaces are occupied by sleeping moggies.
"This is our cat hotel, it's been running for roughly four years," says Vikky.
"Cats come to us for numerous reasons, but the bottom line is that they are not suitable for rehoming.
"It may be because they are not house trained or aren't suited to life in a house in general.
"That doesn't mean they are any less friendly, as lots of our cats love having a good fuss.
"There's Freddy, for example, he's a ginger tomcat and he was handed in as a stray.
"He has asthma and isn't house trained, but he loves people.
"The cat hotel works on the basis that cats come and go as they please.
"We use heat lamps in the winter, it gets pretty popular then.
"We find cats asleep in all kinds of strange places, including on the horses."
The cat hotel forms part of the charity's animal therapy programme, which has been running since 2000.
People can book an appointment and spend time stroking and grooming cats, alongside donkeys, horses, goats, sheep and even cows.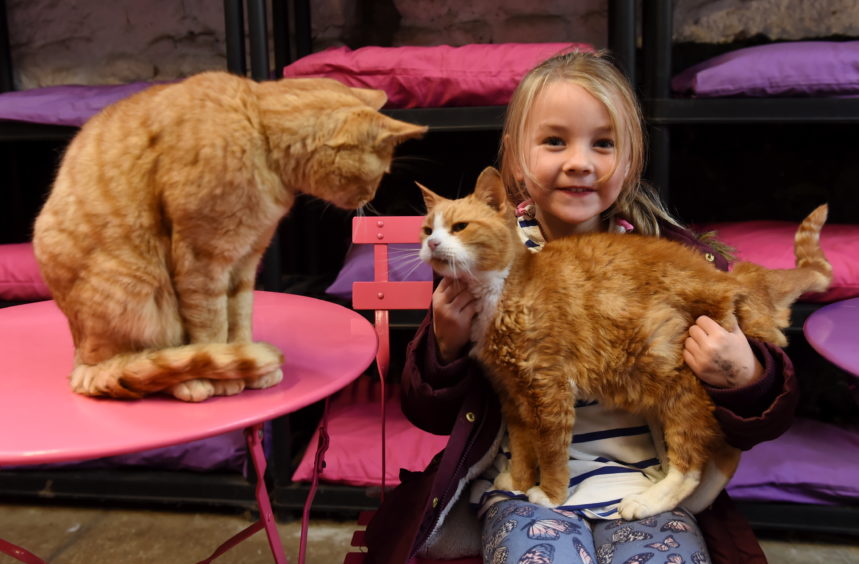 Vikky believes the animals can have a calming effect on people who may have mental health problems, and the sessions can even lower people's blood pressure.
"I know that I personally find cows really therapeutic," she said.
"I think animal therapy has become a lot more popular in recent years, but not many people know about our cat hotel.
"It's very much up to the cats as to whether they want stroked, and you can see people visibly relax.
"We work with Aberdeenshire Council, who can refer people to us, and we also take self-referrals.
"We work with people who have learning difficulties or mental health problems, ranging from severe anxiety to schizophrenia.
"One gentleman comes along to our cat hotel quite regularly, he is visually impaired.
"He spends an hour with a member of staff and the cats.
"He says it enables him to relax and escape from the world.
"We also work with children who may be refusing to go to school – animal therapy can help with so many different things.
"We'd love to increase the number of people who we help and also expand our cat hotel.
"That's a big focus for us at the moment."
The team is also gearing up for winter and Vikky predicts that the animals will go through 2,000 bales of hay from now until March.
"The hay price last year was so expensive, the hot summer meant the grass didn't grow and hay prices soared," she says. "We are still reeling financially, so we would really appreciate donations towards feed.
"We'll also take hay, straw and grass nuts for the horses, and we are always in need of cat food.
"We are going to try to stay open to the public for as long as possible, weather permitting.
"Even when the weather is bad, the team turns up to work because we've got to break ice on water buckets, get everyone fed and mucked out.
"We also have visits from the vet and the horse dentist, as the teeth of some of our elderly horses need a lot of care and attention."
Tour almost complete, we save the very best until last.
Jailbird fluffs his feathers and clocks me with beady eyes.
He is most likely the only cockerel who has spent the night at Her Majesty's pleasure.
"Jailbird was found by police in Aberdeenshire; he was emaciated and pretty close to death," said Vikky.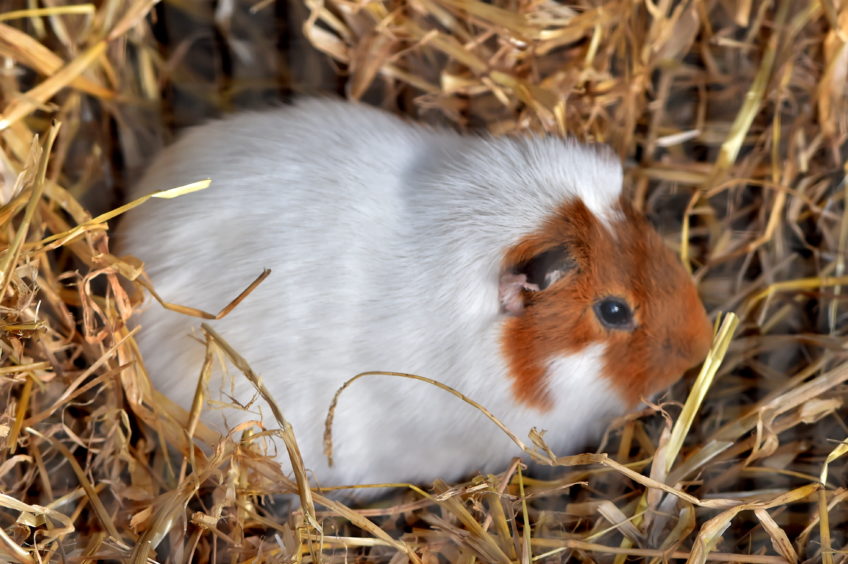 "So they took him back to the police station and he ended up spending the night in a cell.
"A note was placed on his cell door, along the lines of 'Call Willows'.
"We thought we were in trouble at first, we don't tend to get contacted by the police.
"The officers had to ring us and they asked the best way of picking up a cockerel.
"They'd never had to do it before.
"Jailbird suits him, he's pretty hilarious.
"He likes to think he's popular with the girls, we've nursed him back to health."
Jailbird is yet another example of a Willows success story, and will live out his days on the sanctuary.
For more information visit www.willows animals.com