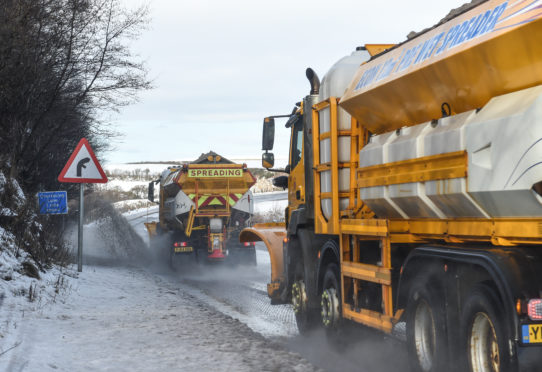 School children are being given the chance to name 10 main road gritters as part of a new competition.
Witty or funny names are being welcomed as youngsters from Aberdeen primary schools submit their names for the 18-tonne machines which will be tracked online.
The competition is only open to schools within Aberdeen City Council, with one entry per primary school. It opens today and closes on Tuesday 5 November before scheduled winter gritting operations are due to start on 11 November.
Each of the winning schools would get a visit from 'their' gritter, and the gritter drivers will also give a talk about their working day, their early starts driving to work when the roads aren't gritted, and what it's like to keep the city's roads safe for residents. They'll also do a question and answer session with the pupils.
The judges for the competition will be the Lord Provost of Aberdeen Barney Crockett, a gritter driver, and a roads manager.
The Lord Provost said: "We're delighted to introduce names for our 10 main road gritters this year as people will be able to see on our website where the gritters are around the city, and what time they're out.
"Our early morning grit runs on the primary routes – the main roads – start at 4.45am which means almost 50% of our roads are gritted before 7.30am so the city is ready for the morning rush hour.
"Our gritter drivers do a fantastic job often going above and beyond their duty however we cannot be everywhere at the same time – there are 590 miles of roads in the city which is more than the distance from Aberdeen to London.
"We're very looking forward to seeing all the entries from our primary schools and we're sure there will be a lot of witty suggestions!"