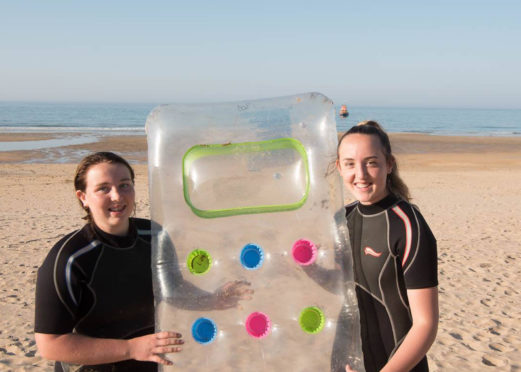 Noble by name and noble by actions, two Fraserburgh sisters who saved a holiday maker and his son from drowning are to receive awards for their bravery.
A kind-hearted stranger nominated Isla and Eilidh Noble for Royal Humane Society awards to recognise the risk they took to save those people's lives.
On August 26, the pair were relaxing at Fraserbrugh Beach when they heard screams for help and noticed a man in the water with a toddler on his shoulders.
Isla, 16, swam against the waves, pulling a lilo with her, and managed to get the boy onto the inflatable before dragging it and its passenger back to shore.
Heroic sisters use inflatable lilo to save father and son, 4, from the sea
Eilidh, 14, meanwhile, raised the alarm while another passerby, Keith Gray, swam out to help bring the father and son to safety.
Although the father, known only as Phil from Newcastle, was flown to Aberdeen Royal Infirmary, neither him nor his son were hurt.
This week, the girls' mum Lisa Noble received an email from a stranger explaining that he had nominated them for their brave actions.
Now, Isla is preparing to accept a Testimonial on Vellum and Eilidh will be getting a Testimonial on Parchment from the Royal Humane Society.
Confessing that life was "crazy" in the days following the rescue, Isla said she is glad things are back to normal and was surprised by the email saying they were to receive awards.
She said: "I do often randomly think about it and still can't believe what actually happened because you never think you are going to have to do something like that.
"We've been overwhelmed by the praise we have received. I never expected it would become such a big thing.
"When we found out about the awards I was really happy but also surprised.
"I'm shocked that people that don't even know us have nominated us for awards."
Heroic sisters reunited with man they rescued off the coast of Fraserburgh
Eilidh added: "I'm surprised because I think that anyone in that situation would have done the same.
"I can't believe that people have taken the time to nominate us."
Mum Lisa said she'd been filled with pride as she shared the news.
She said: "It's such a privilege to be awarded something like this.
"They can't believe that someone who doesn't even know them would take the time to nominate them for a bravery award let alone for them to actually get one because neither of them look at what they did as a brave thing."
The pair have also been listed as finalists at the Scottish First Aid Awards in the Young First Aid Hero 2019 category, the winners of which will be announced on November 15, and nominated for a Chief Constable Bravery Award.
The winners of that award will be revealed in February.