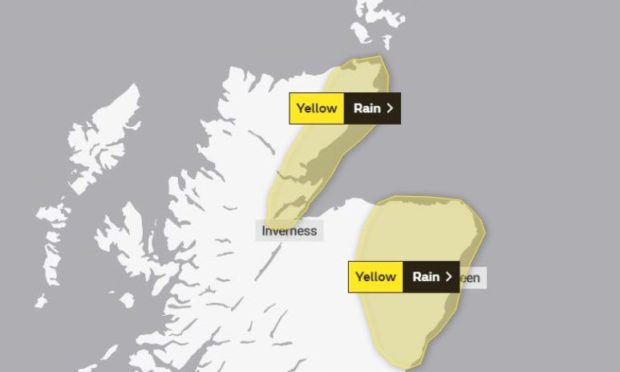 Freak conditions could produce torrential downpours for parts of the north and north-east this weekend, with some areas expecting up to three inches of rain.
A yellow warning has been issued for the whole of Aberdeen, Aberdeenshire as well as a huge part of the Highlands.
According to the Met Office there will be "persistent and heavy rain" throughout much of today which "is likely to bring some disruption from flooding".
Aberdeen and parts of Moray could receive about two inches of rainfall, while Easter Ross and Caithness could experience even heavier rain.
About three inches of rain is expected to fall in a matter of hours.
Flooding of some homes and business can be expected and public transport services are likely to be disrupted. Motorists are being urged to take extra care.
Mark Wilson, meteorologist for the Met Office, said: "We are going to be seeing a lot of rainfall throughout the weekend.
"The rain will keep coming all through tonight and into Sunday morning.
"We will see the rain ease by tomorrow night, when it will lose its intensity.
"Some areas could also see wind gusts up to 50 to 55mph and there could be risks of flooding and travel disruptions."
The fresh weather warnings come after the north-east was battered by heavy rain just last month.
Homes and business were inundated with flood water, roads washed away and bridges damaged and destroyed.
Communities such as Banff, Macduff, Turriff and surrounding villages were among the worst affected.
The damage caused will cost millions of pounds to repair and Aberdeenshire Council has said the repairs will take some time to carry out.
Last night, SEPA flood alerts were in place for all rivers in the Aberdeen and Aberdeenshire, Caithness and Sutherland areas.