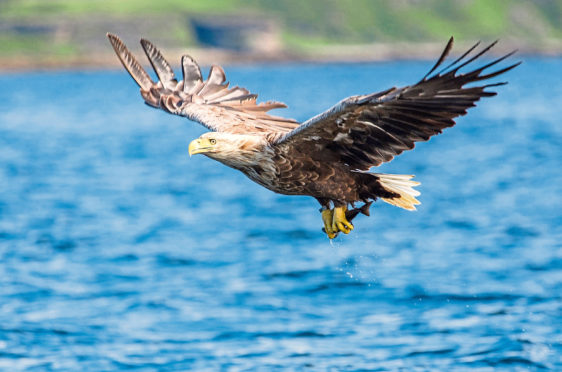 Two satellite-tagged eagles disappeared from the skies of the north of Scotland on the same day.
Transmissions from both young white-tailed eagles were last received over grouse moors on July 22, one in Aberdeenshire and the other in Inverness-shire.
RSPB Scotland has described the disappearance of the rare and protected birds as "highly suspicious" and has appealed for information.
Its head of investigations, Ian Thomson, said it was "almost certain" they had been killed and the evidence destroyed.
He also highlighted the impact their loss will have on the ongoing struggle to re-establish population numbers in Scotland.
The RSPB has long identified Inverness-shire's grouse moors as an area with a history of bird of prey persecution, reporting several suspicious disappearances of tagged golden eagles over several years.
These incidents led the Scottish Government to commission an independent review in 2016 into the fates of satellite-tagged golden eagles in Scotland.
The subsequent report found that a third of those birds had most likely been illegally killed.
Illegal persecution led to white-tailed eagles becoming extinct in Scotland in 1918.
The birds only returned to the eastern part of the country through a reintroduction project run by RSPB Scotland, Forestry Commission Scotland and Scottish Natural Heritage between 2007 and 2012.
One of the two eagles being tracked last transmitted a few miles from the Banchory to Fettercairn road in Aberdeenshire, with the final signal received from the other near Tomatin in the northern Monadhliaths.
Mr Thomson said: "Yet again, rare, protected birds of prey have disappeared in highly suspicious circumstances, with their last known locations on grouse moors.
"And yet again, we can be almost certain that these birds have been killed, with those responsible destroying all evidence.
"The disappearance of these two eagles is more than a loss of two birds.
"It means any future breeding success they might have had, helping to boost the numbers of these rare birds, has also been destroyed.
"Illegal persecution is seriously undermining the re-establishment of a white-tailed eagle population in this part of Scotland."
He added: "It's clear that current legal deterrents aren't working and it is long overdue that the stain of raptor persecution was removed from our nation's reputation.
"We need the introduction of robust regulation of a driven grouse shooting industry that is blighting our country's incredible wildlife and contributing to its biodiversity crisis."
The Scottish Gamekeepers Association said  the reasons for the birds' "disappearance" may not be as clear-cut as the RSPB suggested.
A spokesman said: "No one wants to hear that birds are missing and the SGA shares that concern but there needs to be a degree of caution when dealing with satellite tag incidents.
"Satellite tags can and do fail. They only give an indication of birds' movements because there can be considerable time lapses in data being received.
"A bird can therefore travel a fair distance from the point the last known location fix was sent, which makes searching often futile.
"We have seen cases where birds that have been given up for dead have later been located.
"The SGA has petitioned the Scottish Parliament for independent monitoring of these tags so all of these possibilities can be properly explored by neutral tag experts, appointed by Scottish Government.
"We would reiterate that if anyone sees these birds that they contact police immediately."
Anyone with information about either bird, or any other wildlife crime, should call police on 101 or the RSPB's raptor crime hotline on 0300 999 0101.