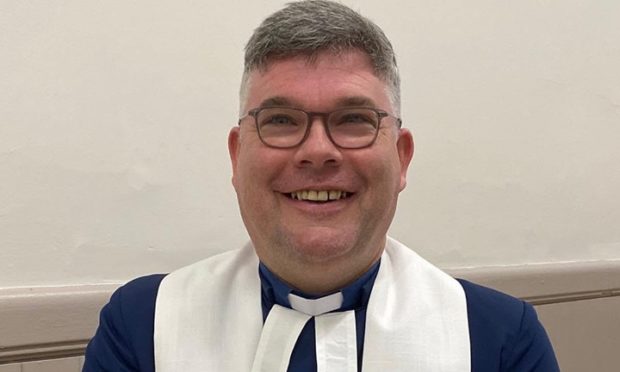 Scotland's first openly gay Kirk minister believes that society has become more tolerant since he was ordained 20 years ago.
Scott Rennie found his calling in 1999 and has spent his last 10 years at Queen's Cross Church in Aberdeen.
Originally from the Granite City, Mr Rennie returned to his hometown from Brechin Cathedral, where he had previously served as minister.
Parishioners at Queen's Cross presented Mr Rennie with a special cake after Sunday's service to mark his 20th anniversary.
The cake depicted what Mr Rennie described as the two great passions in his life – the Kirk and Aberdeen Football Club.
Mr Rennie, whose appointment as Scotland's first openly gay Kirk minister in 2009 was the subject of protests by some church members, yesterday said he believed society had become more tolerant during the decades since he became a minister.
He said: "A lot has changed over the time of my ministry so far, both in society and in the church, much of it for the better.
"Both are more tolerant and accepting of diversity.
"Churches have to work harder in communities to share their message, and church is becoming more seven days a week than solely focussed on Sundays, although they remain critically important.
"I definitely think the skills needed for ministry 20 years on are even more about leadership and organisational management than they were when I was ordained."
Mr Rennie oversaw the £1.7 million redevelopment of Queen's Cross Church, one of several changes he has witnessed during his tenure.
He added: "It has been an immense privilege to serve as a parish minister – first in the cathedral city of Brechin, and now at Queen's Cross.
"The best part of ministry for me is the excitement of Sunday worship, and then through the week, the privilege of accompanying people in the difficult as well as happy parts of life.
"If there's something parish ministry has taught me it's that you often find faith and hope in the most unexpected places.
"As much as you often find God outside the confines of church, I still love the institution I work for, and its ability to bring people together to work for good and make a difference in our communities.
"And I loved the cake – it brought together my two passions in life – the Kirk and the Dons."