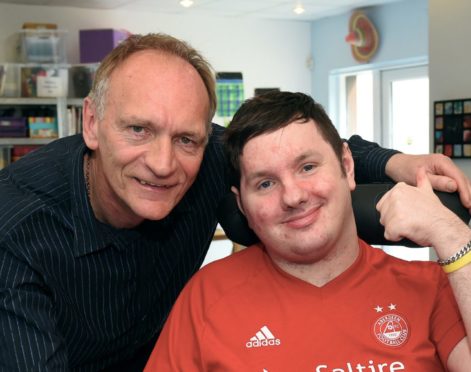 As Sue Ryder work to reach their final £3.9million target for the Dee View Court expansion, Neil Drysdale learns just how vital the charity's work is
It is impossible to visit Dee View Court in Aberdeen without marvelling at the commitment which the staff show towards those in their care.
Mark Cordiner is one of those benefiting from the efforts of the Sue Ryder nurses, physiotherapists, specialists and volunteers at Scotland's only specialist neurological centre.
For the 31-year-old's family, the centre has proved invaluable.
They had originally feared he may end up in the same care home as his grandmother following a horrific road accident in 2014.
Mr Cordiner, from Aberdeen, was thrown several feet from his bike and suffered extensive head injuries which left him in hospital for many months.
He has been at Dee View Court for three years, and the transformation in Mr Cordiner's condition has highlighted the work which is done by so many different people.
He is more able to converse with his family, participate in a variety of games, and he makes regular trips to to Pittodrie to watch his beloved Dons.
His father, Norman, said: "We struggled to find a suitable place for Mark. We spent a long time researching and visiting different care homes and centres, but none of them were appropriate for his needs and his age.
"Most of the places we were offered were in old folks' homes – no place for a young man. He might have ended up at the same care home as his grandmother.
"But I've seen a great improvement in Mark's abilities since he moved into Dee View Court, particularly in his physical abilities, but also in his concentration skills and confidence in going out into the community and being around others again.
"It could have been a very different outcome for Mark if he had gone into a care for the elderly home.
"It gives me such peace of mind and makes me happy to know that Mark is getting the care he needs at Dee View Court."
Although he had to wait for a place at the complex – which is now being expanded to nearly double the number of residents – his family are grateful he is now receiving the specialist medical care he needs.
He regularly takes part in the centre's daily activities with his fellow residents, including trips to the cinema, playing cards and taking part in Countdown-style quizzes.
Activities supervisor Michelle Allison has been working with Mr Cordiner to help improve his cognitive skills and devise new ways of improving them.
She was recently awarded a Sue Ryder Incredible Colleague Award for Creativity for the innovative work that she has done with Mr Cordiner.
She said: "A result of Mark's accident was that his short-term memory was affected and it impacted on his day to day life and ability to do simple tasks.
"I realised that mazes and puzzles were a good tool for Mark to think about simple problem-solving tasks, however research into appropriate tools and puzzles became challenging as a lot of resources available were aimed at children.
"I had to think about what resources were relevant to Mark and his interests.  I therefore designed two mazes of different levels of difficulty. Knowing Mark is a keen football fan, I designed the mazes with this in mind.
"This type of cognitive therapy has really helped Mark in his day-to-day life, helping him undertake recreational activities better, such as playing games, and a timetable of various rehabilitation activities enable Mark to be more confident at socialising."
Mr Cordiner especially enjoys visits from the therapet dog, Eva, with whom he spends time every fortnight. And he continues to follow Aberdeen FC and regularly goes to watch them at Pittodrie, with the assistance of the Sue Ryder care team.
The rooms at the newly-expanded Dee View Court have been fitted with hi-tech hoists, specially designed beds and wheelchair acces to the gardens.
The charity has raised more than £3.1million towards the project, but is appealing for the final push to hit the £3.9million target.
To help, visit www.sueryder.org/deeviewappeal