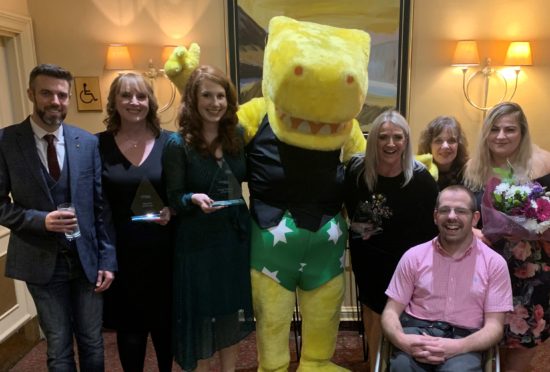 Volunteers and staff at Childline in Aberdeen have been awarded for their dedication.
The charity gives children and young people someone to talk to about any issues or worries they may have.
At a special ceremony at The Marriott Hotel at Dyce, counsellors and other volunteers were honoured and entertained by comedian Rob Kane, and cover band Winston Smith.
Among the 10 to be honoured was Louise Williams, who was has been a counsellor in Aberdeen for two years. She was named volunteer of the year.
Ms Williams said: "We're all a team here at the base and all of us work really hard and give our time, so in my eyes we're all winners.
"The children we speak to have nowhere to turn, they tell us their deepest, darkest, worries and for me that's the most important thing – to be there for them in their time of need."
Siobhan Leith was awarded young volunteer of the year in recognition of her two-and-a-half years as a counsellor.
She said she was "gobsmacked" to win, adding "Volunteering at Childline has done just as much for me as I have for the service. The confidence and opportunities I have gained since being here have been amazing."
Childline has had a base in Aberdeen for 15 years, and has conducted more than 150,000 counselling sessions with young people who need help with issues including bullying, family relationships and suicidal thoughts.
Volunteers are given training and there are a variety of roles. To find out more, visit www.nspcc.org.uk/what-you-can-do/volunteering-nspcc-childline/volunteer-childline-helpline
Childline manager Leanne Ferries said: "We are immensely proud of our counsellors and it's fantastic to be able to honour them and celebrate their achievements."