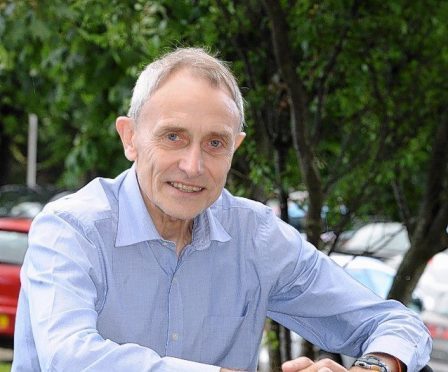 He was the Aberdeen athlete who kept racing against the clock, setting new milestones and proving that age is just a number.
And he was also the man with the initials MBE – Meldrum Barclay Edwards – who ended up receiving an MBE for his services to sport and charity.
When his son, Myles, was married just last month, Mel Edwards, who has died of cancer, aged 76, found the inner strength to attend the wedding in Aberdeenshire, where he delivered a "powerful" speech.
Mr Edwards was born in the Granite City in 1942 and graduated in civil engineering from Cambridge University.
He subsequently enjoyed a prodigious international career,  locking horns with many of the greatest names of his generation, including Commonwealth medallists Lachie Stewart and Ian McCafferty.
Renowned for his intensive training regimes of around 100 miles per week, his marathon personal best time of two hours, 18 minutes, 25 seconds would still place him high in the contemporary British rankings.
During a running career which spanned half a century, it was estimated Mr Edwards covered more than 100,000 miles and represented his country at distances ranging from six miles to the marathon.
Even when he was diagnosed with Myeloma in 2006, he refused to let the gruelling hospital treatment grind him down and, whether tackling charity challenges, coaching youngsters or pouring himself into new initiatives, his fellow athletes described him as an inspirational figure.
His international athletic colleague, Colin Youngson, a three-time Scottish marathon champion from Aberdeen, said yesterday: "When he became Meldrum Barclay Edwards, Member of the Order of the British Empire (or MBE squared, as he called it) no one could have deserved the honour more. Everyone admired and liked him.
"When he first contracted cancer, I visited him in his hospital ward and we laughed our way through my collection of Alf Tupper – The Tough of the Track – photocopies.
"I could add so many more memories. His tales of dawn jogging at Rubislaw, saying hello to the fox that trained there at the same time; so many charitable ventures into which he poured his heart and soul. The laughs, the exhilaration for life.
"He's gone at last, but unforgettable. I was very fortunate to know him."
In 2016, at 73, Mr Edwards raised £8,000 by running 100×100 metres in two locations in his home city.
The money will be used to buy specialist EyeGaze technology for Woodlands School in Aberdeen.
He had set himself the task of raising a greater sum than when he accumulated £7,500 for Friends of Anchor in 2012 by undertaking a 70-minute run on his 70th birthday.
He said later: "It was a very satisfying experience. This will help to purchase life-changing equipment for the wonderful children and teachers at Woodlands School.
"It has been a privilege to be involved. In my life, I would say I had two main challenges. The first was to make the Olympic Games marathon (I missed out by two places), and the second was not to be defeated by cancer in 2006.
"Now there is a third. And that's to ensure I do my best to provide life-changing facilities for children with severe problems."
Mr Edwards spent the final weeks of his life at Roxburghe House.
He is survived by his wife Kareen and Myles.